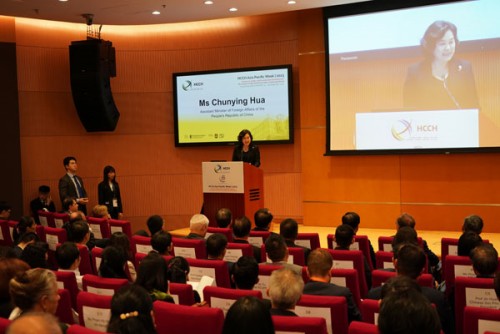 加强国际民商法治 共同促进互联互通
Bolstering International Rule of Law on Civil and Commercial Matters to Promote Connectivity
——外交部部长助理华春莹在海牙国际私法会议亚太周暨成立130周年国际研讨会上的致辞
– Remarks by Assistant Foreign Minister Hua Chunying at the Asia Pacific Week and the 130th Anniversary of the Hague Conference on Private International Law
尊敬的香港特区行政长官李家超先生,
尊敬的海牙国际私法会议秘书长贝纳斯科尼博士,
尊敬的终审法院张举能首席法官,
尊敬的律政司司长林定国先生,
尊敬的香港大学校长张翔先生,
女士们,先生们,
The Honorable Chief Executive John Lee,
Secretary General of the HCCH Dr. Christophe Bernasconi,
Chief Justice Mr. Andrew Cheung,
Secretary for Justice Mr. Paul Lam,
President and vice chancellor Professor Zhang Xiang,
Ladies and Gentlemen,
大家好!很高兴与各位朋友相聚香江,共同出席海牙国际私法会议亚太周暨成立130周年国际研讨会。首先我代表中国政府,对海牙会议成立130周年和亚太周研讨会的召开表示热烈祝贺!对各位嘉宾的到来表示诚挚欢迎!
Good afternoon. It is a great pleasure for me to be here to meet all of you in Hong Kong. On behalf of the Chinese government, I wish to extend our warmest congratulations on the 130th anniversary of HCCH and the Asia Pacific Week, and a very warm welcome to all guests present today!
过去130年来,海牙会议从区域性临时外交会议发展为常设政府间国际组织,从只有13个欧洲成员国的区域性组织发展到拥有91个成员国遍布六大洲的全球性组织,从统一欧洲国际私法到协调世界各国冲突规范,海牙会议迄已制定40项国际公约,成为国际私法领域最权威和最具影响力的国际组织,对全球国际私法发展作出重要贡献,为促进各国民商事交往发挥积极作用。
Over the past 130 years, HCCH has grown from an ad-hoc diplomatic session to a permanent inter-governmental organization, and from a regional grouping of 13 countries in Europe, to a global organization with 91 members across six major continents. Founded on a mission to unify the rules of private international law, first in Europe, and now the world over, the Conference has developed 40 international conventions, making itself the most authoritative and influential international organization in the area of private international law, contributing to the development of private international law worldwide, and facilitating exchanges on civil and commercial matters across borders.
中国与海牙会议在相互交流中共成长,在合作共赢中同发展。伴随着改革开放,中国于1981年开始参与海牙会议活动,1987年正式成为成员。40多年来,作为海牙会议重要成员国,中国积极参与各项公约谈判,贡献中国法律智慧,先后参加送达、取证、跨国收养、取消认证公约。中国还大力推动国际合作,为海牙会议完善决策机制建言献策,为海牙会议发展壮大提供资金援助。
Throughout the years, China and HCCH have progressed together through win-win cooperation. Following the start of the reform and opening-up program, China began participating in the Conference activities in 1981, and became a full member in 1987. In the four decades since, China has taken an active part in the negotiations of various conventions and contributed Chinese wisdom in the legal field. So far, China has joined the Service Convention, the Evidence Convention, the Adoption Convention and the Apostille Convention. China has also made a big effort to promote international cooperation, proposed suggestions on improving the decision-making mechanism, and provided financial support to the Conference operation and development.
40多年来,中国也从海牙会议的丰硕成果汲取营养,助力推动中国民商事法律的发展。海牙会议为中国的国际私法、民商事司法协助、内地与特区法律合作提供有益借鉴。2012年,海牙会议在香港特区设立亚太区域办事处,有力提升了亚太区域对海牙公约的认知和参与,是中国与海牙会议共赢的有力例证。
In these 40-plus years, China has benefited greatly from the outcomes of HCCH, which in turn helped us to develop civil and commercial laws at home. For example, we learned much from the Conference in terms of private international law in China, legal assistance on civil and commercial matters, and legal arrangements between the mainland and the Special Administrative Regions. In 2012, the Conference opened its Regional Office for Asia and the Pacific here in Hong Kong. The move has significantly increased awareness about the Hague conventions in the Asia Pacific, encouraged greater participation from the region, and stands as a good example of a win-win cooperation between China and HCCH.
女士们,先生们,
Ladies and Gentlemen,
本次研讨会以"司法公正与可持续发展之路:海牙会议在互联互通世界中的影响力"为主题,很有现实意义。司法公正与可持续发展是互联互通世界的两大主题,是社会治理的共同追求,两者不可或缺,相互促进。可持续发展是根本目标,司法公正是重要保证。世界各国已成为你中有我、我中有你的命运共同体,各国相互联通,跨国民商事交往频密,贸易和投资等法律领域合作需求旺盛。海牙会议以加强国际私法协调统一为己任,在促进互联互通方面大有可为。
The theme chosen for this Asia Pacific Week is most relevant. Justice and sustainable development are two major goals for social governance in an inter-connected world. Sustainable development is our fundamental pursuit, and justice is an important guarantee. We need both of them, and the two are mutually reinforcing. Today, the interests of countries are so closely linked that our world is becoming one community with a shared future. So many interactions are taking place between countries and cross-border exchanges on civil and commercial matters are becoming ever more frequent. All this requires legal cooperation in trade, investment and many other fields. Since HCCH has taken as its mission to harmonize the rules of private international law, there is much it can do to promote global connectivity.
今年恰逢中国提出共建"一带一路"倡议十周年。"一带一路"从蓝图变为现实,从理念化为行动,从中国走向世界,已成为深受欢迎的国际公共产品和国际合作平台,150多个国家、30多个国际组织加入"一带一路"大家庭,一大批合作项目在共建国落地实施,为各国改善民生、促进发展带来看得见、摸得着的实利。
This year also marks the 10th anniversary of the Belt and Road Initiative. Over the past ten years, the BRI is turning from a blueprint into a reality, from a vision into action, and from a Chinese initiative to a global endeavor. It has won great popularity both as an international public good and as a platform for international cooperation. More than 150 countries and over 30 international organizations have joined the BRI family, and a large number of cooperation projects have been carried out in partner countries, bringing tangible benefits to local communities in terms of better lives and more development opportunities.
今年10月,中国将主办第三届"一带一路"国际合作高峰论坛,共商高质量共建"一带一路"大计。促进互联互通是"一带一路"与海牙会议的共同目标,民商事法律将赋予"一带一路"更强劲的生命力。相信两者携手,必将极大促进国际民商事法律合作,推进国际规则协调发展,有力促进国际法治。借此机会,我愿提出三点建议:
Next month, China will host the third Belt and Road Forum for International Cooperation. This will be a good occasion to plan for high-quality Belt and Road cooperation with partner countries and organizations. Promoting connectivity is a shared goal of the BRI and HCCH, and we believe cooperation on civil and commercial laws will give the BRI even stronger vitality. Working together, the BRI and Hague Conference will give an enormous boost to international legal cooperation on civil and commercial matters, advance the harmonization and development of international rules, and strengthen the international rule of law. With this in mind, I wish to propose efforts in three areas.
第一,因应世界大势,完善国际规则。随着全球化深入发展,各国对贸易自由化、投资便利化等国际规则的需求显著上升。海牙会议一方面要适应民商事法律发展的需要,制定新公约,特别是加快"管辖权项目"谈判进程,提供更多的国际私法公共产品。另一方面,要与时俱进修改完善现有公约。需要强调的是,在国际公约制定中,应积极践行多边主义,要照顾各国关切,特别是广大发展中国家的利益诉求,在不同法律制度和利益诉求中寻求共识,反对以少数国家的"家法帮规"代替国际规则。
First, we need to respond to the needs of the times and improve international rules. As globalization deepens, there will be greater need for rules on trade liberalization and investment facilitation. On the one hand, HCCH may need to develop new conventions in view of the latest developments of civil and commercial law, speed up the negotiations on the Jurisdiction Project in particular, and provide more public goods in the area of private international law. On the other hand, it may need to revise the existing conventions to keep them up to date. In making these international conventions, it is particularly important to practice multilateralism, accommodate the concerns of all countries, in particular the interests of developing countries, find consensus across different legal systems and interests, and not to allow international rules to be replaced by the house rules of a few countries.
第二,坚持遵信守诺,提升履约效果。法律的生命力在于实施。各国应依法行使权利、善意履行义务、妥善解决争端,切实维护国际经贸规则和多边贸易体制,而不应以法治之名,行不法之实;应坚持国际法平等统一适用,而不搞选择性司法和双重标准,"合则用、不合则弃"。要强化海牙会议关于送达司法文书、承认与执行民商事判决等公约的履约,推动国际司法合作,维护健康稳定的民商事法律秩序,为各国经贸往来提供坚实法律保障。
Second, we need to urge good faith and reinforce compliance. The vitality of law lies in its implementation. All countries need to exercise their rights according to law, honor obligations in good faith, and properly handle disputes. They should uphold the international economic and trade rules and the multilateral trading system, instead of taking unlawful actions in the name of law; they should promote equal and uniform application of international law, instead of a selective approach or double standards. Efforts should be made to strengthen the implementation of the Service Convention and Judgments Convention, advance international judicial cooperation, and foster a healthy order of civil and commercial laws, which serves as the legal foundation for economic and trade exchanges between countries.
第三,加强交流合作,促进包容互鉴。民商事法律是公平正义之法,是一国历史、文化、价值观的集中体现,也反映了和平、发展、公平、正义、民主、自由的全人类共同价值。海牙会议通过制定公约、推进公约实施、制定示范法等,有效推动各国民商事法律交流互鉴。我们要充分尊重文明多样性,积极落实习近平主席提出的全球文明倡议,加强法治文明对话,以法律互鉴消弭法律冲突,以法律交流消除法律隔阂,弘扬全人类共同价值,推动构建人类命运共同体。
Third, we need to enhance cooperation and promote inclusiveness and mutual learning. At the heart of civil and commercial laws is the spirit of fairness and justice. They reflect the history, culture and values of individual countries, as well as humanity's common values of peace, development, equity, justice, democracy and freedom. By drafting conventions, promoting implementation, and formulating model laws, HCCH has done an effective job in encouraging exchanges and mutual learning between countries on civil and commercial law. As we celebrate the diversity of civilizations and embrace the Global Civilization Initiative put forward by President Xi Jinping, we also need to enhance inter-civilization dialogue on the rule of law, overcome the differences and barriers through mutual learning and more exchanges, uphold humanity's common values, and work for a community with a shared future for mankind.
女士们,先生们,
Ladies and Gentlemen,
在海牙会议成立130周年的历史时刻,我们齐聚香港举行庆祝活动意义尤为深远。
Celebrating the 130th anniversary of HCCH in Hong Kong carries special significance.
香港回归祖国后,经济蓬勃发展,国际金融、航运、贸易中心地位稳固,自由开放雄冠全球,东方之珠的魅力更胜往昔,"一国两制"在港实践取得了举世公认的成功。在法治领域,回归后的香港,确立了以中国宪法和香港基本法为基础的香港新宪制,融合了普通法与内地成文法的优长,融汇了东方与西方的法律文化传统,形成了香港的独特法律优势。新宪制下的香港,法律制度完备、法律人才荟萃、法律服务业发达,成为连接中华法系与世界各大法系,以及各国法治文明的桥梁和纽带。
After its return to the motherland, Hong Kong has registered robust growth, cemented its standing as an international financial, shipping and trading center, and continued to top the world in the level of freedom and openness. The Pearl of the Orient is shining ever brighter, attesting to the success of One Country, Two Systems in Hong Kong. In the legal field, it has developed a new constitutional order based on China's Constitution and the Basic Law, by drawing on the strengths of both the common law and civil law and by combining the legal traditions of the East and the West. All these form the unique advantages of Hong Kong's legal system. Under the new order, Hong Kong has a full-fledged legal system, a stellar contingent of legal professionals, and a highly developed legal services sector; it serves as a bridge between the Chinese legal system and other legal systems in the world, and a connector of diverse traditions of the rule of law.
当前,香港站在了新的历史起点上,进入从由乱到治向由治及兴的新阶段。海牙会议、亚洲—非洲法律协商组织等国际法律组织纷纷落户香港,是国际社会对香港发展投下的信任票,给香港带来新机遇。希望香港法律界同仁擦亮香港"法治"金漆招牌,建设好"亚太区国际法律及解决争议服务中心",在国际金融、航运、贸易中心之外,为香港增添"法律中心"新桂冠。
Today, Hong Kong stands at a new historical starting point of order and greater prosperity. The decision to open regional offices here by international legal organizations such as HCCH and the Asian-African Legal Consultative Organization is a vote of confidence in Hong Kong's future and has brought new opportunities. It is our hope that friends from the law circle in Hong Kong will build up the city's reputation in the rule of law, help establish Hong Kong as a leading center for international legal and dispute resolution services in the Asia Pacific, and add one more title "a center of law" to Hong Kong's already impressive resume.
习近平主席指出,"相信自己、相信香港、相信国家"。我们坚信,有伟大祖国作坚强后盾,有"一国两制"的独特优势,香港各界一定能够乘势而上,在实现中华民族伟大复兴的进程中大有可为,也必将大有作为!
President Xi Jinping once asked Chinese people to have confidence in ourselves, in Hong Kong and in the country. I believe with the strong backing of the motherland and the unique advantages of One Country, Two Systems, all sectors of Hong Kong society will seize the opportunities and play ever significant roles in the great process of modernization and rejuvenation of the Chinese nation.
最后,预祝会议取得圆满成功!
In conclusion, I wish this event a full success.
谢谢大家。
Thank you.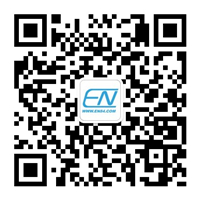 英文巴士公众号
扫一扫,资讯早。