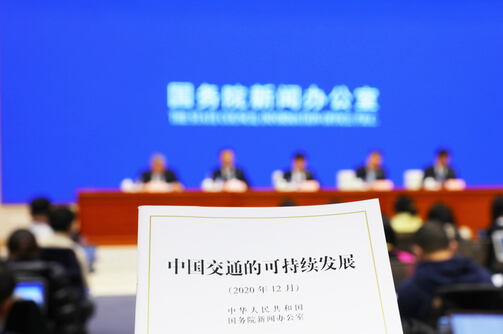 中国交通的可持续发展文章源自英文巴士-https://www.en84.com/10301.html
Sustainable Development of Transport in China文章源自英文巴士-https://www.en84.com/10301.html
文章源自英文巴士-https://www.en84.com/10301.html
中华人民共和国国务院新闻办公室文章源自英文巴士-https://www.en84.com/10301.html
The State Council Information Office of the People's Republic of China文章源自英文巴士-https://www.en84.com/10301.html
文章源自英文巴士-https://www.en84.com/10301.html
2020年12月文章源自英文巴士-https://www.en84.com/10301.html
December 2020文章源自英文巴士-https://www.en84.com/10301.html
文章源自英文巴士-https://www.en84.com/10301.html
目录文章源自英文巴士-https://www.en84.com/10301.html
Contents
前言
Preface
一、走新时代交通发展之路
I.  A New Path for Transport in the New Era
二、从交通大国向交通强国迈进
II. China's Growing Strength in Transport
三、服务决战脱贫攻坚和决胜全面小康
III. A Key to Poverty Alleviation and Moderate Prosperity
四、推进交通治理现代化
IV. Modernization of Transport Governance
五、推动构建全球交通命运共同体
V. Building a Global Community of Transport for All
六、中国交通的未来展望
VI. Future Prospects for China's Transport
结束语
Conclusion
前言
Preface
交通运输是国民经济中基础性、先导性、战略性产业和重要的服务性行业,是可持续发展的重要支撑。
Transport is an important service industry – a basic, leading and strategic sector of the economy underpinning sustainable development.
新中国成立以来特别是改革开放以来,在中国共产党领导下,中国的交通运输秉持与经济社会协调发展、与自然生态和谐共生的理念,以建设人民满意交通为目标,自立自强,艰苦奋斗,取得了举世瞩目的发展成就,从根本上改变了基础薄弱、整体落后的面貌,为经济社会发展提供了有力保障,走出了一条中国特色交通发展之路。
Since the founding of the People's Republic of China in 1949, and particularly since the beginning of reform and opening up in 1978, under the leadership of the Communist Party of China (CPC), China has followed a strategy of coordinating the development of its transport industry with its economy and society, and ensuring harmony between the transport system and the natural environment. Based on a self-reliant approach, China has made a great effort to create a transport industry that fully responds to public needs. Remarkable results have been achieved, and a once-backward transport industry with a weak base has been hugely improved, providing strong support for economic and social development and creating an outstanding transport system with Chinese characteristics.
中共十八大以来,在习近平新时代中国特色社会主义思想指引下,中国交通发展取得历史性成就、发生历史性变革,进入基础设施发展、服务水平提高和转型发展的黄金时期,进入高质量发展的新时代。基础设施网络规模居世界前列,运输服务保障能力不断提升,科技创新能力显著增强,行业治理现代化水平大幅跃升,人民高品质出行需求得到更好满足,中国加快向交通强国迈进。
Since the 18th CPC National Congress held in November 2012, under the guidance of Xi Jinping Thought on Socialism with Chinese Characteristics for a New Era, China has made historic progress in its transport system. The industry has entered a golden period characterized by infrastructure improvements, better services, and high-quality transformation and development. China leads the world in terms of the scale of its transport infrastructure. Its transport service and support capacity has steadily improved, its capacity for technological innovation has markedly strengthened, and the modernization of management has made huge steps forward in this sector. As a result, the public now enjoys higher-quality travel experiences, and China is on the way to becoming a world leader in transport.
当今世界正经历百年未有之大变局,各国的前途命运从未像现在这样紧密相连,交通对于加强互联互通、促进民心相通日益重要。作为负责任大国,中国认真落实联合国2030年可持续发展议程,积极参与全球交通治理,加强国际交流与合作,为促进全球可持续发展、推动构建人类命运共同体贡献中国智慧、中国力量。
The world today is undergoing levels of change unseen in a century, and the future of all countries is linked in ways that are unprecedented. In this context, the role of transport in enhancing connectivity and people-to-people bonds is growing in importance. As a major country that shoulders its responsibilities, China is committed to implementing the United Nations 2030 Agenda for Sustainable Development. It takes an active part in global transport governance, and looks to strengthen international exchanges and cooperation, so as to contribute Chinese wisdom and strength to sustainable development throughout the world and help to build a global community of shared future.
为全面介绍新时代中国交通发展成就,分享中国交通可持续发展的理念和实践,增进国际社会认识和了解,特发布本白皮书。
The Chinese government is publishing this white paper to provide a full picture of China's achievements in the field of transport, and to share with the international community China's strategy and activities in building a sustainable transport system.
一、走新时代交通发展之路
I. A New Path for Transport in the New Era
中国交通积极适应新的形势要求,坚持对内服务高质量发展、对外服务高水平开放,把握基础设施发展、服务水平提高和转型发展的黄金时期,着力推进综合交通、智慧交通、平安交通、绿色交通建设,走新时代交通发展之路。
China's transport industry has followed a new path to keep up with the new development dynamic, serving high-quality domestic development and high-standard opening up. China is taking advantage of a period of golden opportunities to improve infrastructure, upgrade services and make transformation in order to build a comprehensive transport system that is intelligent, safe, and green.
(一)以建设人民满意交通为目标
1. Building the Transport System That the People Need
为了人民、依靠人民、服务人民,是中国交通发展的初心和使命。新时代的中国交通,秉持人民至上、以人为本的发展理念,坚持人民共建共治共享,建设人民满意交通。
China is committed to satisfying public needs and serving public interest in developing its transport industry. In the new era, China adheres to a people-centered approach to governing and developing the sector based on public collaboration and participation for the benefit of all. It is dedicated to building the transport system that the people need.
——人民交通靠人民。坚持人民主体地位,着力解决人民最关心、最直接、最现实的交通发展问题,充分调动人民的积极性主动性创造性,鼓励社会公众参与交通治理,依靠人民办好交通。
– Public participation. China must concentrate its efforts on solving the most pressing, immediate transport issues that concern the people the most, encourage them to become involved in the governance of transport, and boost their initiative and creativity.
——人民交通由人民共享。统筹公平和效率,坚持普惠性、保基本、均等化、可持续方向,大力推进城乡基本公共服务均等化,保障城乡居民行有所乘,让人民共享交通发展成果。
– Benefit for all. China should guarantee equitable and efficient access to basic public services in urban and rural areas, and ensure that transport development is sustainable and beneficial to all.
——人民交通让人民满意。以人民满意为根本评判标准,聚焦新时代人民对交通的新期待,深化供给侧结构性改革,推动交通运输高质量发展,不断满足不同群体的交通运输需求,不断提升人民的获得感、幸福感、安全感。
– People-centered development. Public satisfaction is the ultimate criterion for evaluating government work. In the light of public expectations in the new era, China focuses on building a high-quality transport industry through supply-side structural reform, meeting the transport needs of diverse groups, and bringing the people a stronger sense of gain, happiness and security.
(二)以当好发展"先行官"为定位
2. Leading Economic Development
经济要发展,国家要强大,交通要先强起来。把交通运输作为经济社会发展的"先行官",坚持先行引导、适度超前原则,保持一定发展速度,为经济社会发展提供坚实基础和有力保障。
A nation and its economy can only be strong when its transport system is well-developed. Transport plays a leading role in economic and social development. China ensures that it can play this role to the full by always planning for the future and maintaining an appropriate pace of growth.
——措施上优先部署。实施京津冀协同发展、长江经济带发展、长三角一体化发展、粤港澳大湾区建设等区域协调发展战略,推进脱贫攻坚、乡村振兴、新型城镇化等重大决策部署,把交通运输作为先行领域重点部署、优先保障。
– Priority in planning. Priority has been given to transport when implementing strategies for coordinated regional development, including the Beijing-Tianjin-Hebei Region, the Yangtze River Economic Belt, the Yangtze River Delta, and the Guangdong-Hong Kong-Macao Greater Bay Area, and when facilitating major programs such as poverty eradication, rural revitalization, and new urbanization.
——能力上适度超前。适应新型工业化、信息化、城镇化和农业现代化发展要求,以加快建设综合立体交通网络为目标,以综合交通运输规划编制为抓手,适度超前布局交通基础设施建设,支撑经济社会发展,为未来发展留足空间。
– Future-oriented planning. In formulating comprehensive transport plans, and in building a comprehensive and multidimensional transport network, China has adopted future-oriented plans for infrastructure construction to accommodate new industrialization, information technology, urbanization, and agricultural modernization. The goal is to bolster economic and social development now and in the future.
——作用上先行引领。充分发挥交通运输在国土空间开发、产业梯度转移、城镇布局优化、经济贸易交流中的先导作用,发挥互联网新业态在培育经济发展新动能中的引领作用,促进新经济形态加速崛起。
– The leading role of transport. Transport should play a key role in making the best use of land, facilitating cross-region industrial transfer, improving the spatial layout of urban areas, and promoting economic exchanges and trade. China gives full play to the leading role of new internet-based transport business forms in fostering driving forces for economic development and accelerating the rise of new forms of economic activity.
(三)以新发展理念为引领
3. New Development Philosophy as Guide
贯彻创新、协调、绿色、开放、共享的新发展理念,是新时代中国交通发展的关键。以新发展理念引领交通高质量发展,更新观念,转变方式,破解难题,厚植优势。
Implementing the vision of innovative, coordinated, green, open, and shared development is the key to developing China's transport industry in the new era. China works to steer the future of transport with the new development philosophy, updating concepts, adopting new approaches, resolving difficulties and boosting strengths.
——建设安全、便捷、高效、绿色、经济的现代化综合交通运输体系。打造高品质的快速交通网、高效率的普通干线网、广覆盖的基础服务网,加快形成立体互联的综合交通网络化格局和横贯东西、纵贯南北、内畅外通的综合交通主骨架。
– Building a modern comprehensive transport system that is safe, convenient, efficient, green and economical. China aims to build a high-quality rapid transit network, an efficient regular artery network, and an extensive basic service network. China is moving faster in building a comprehensive and multidimensional and interconnected transport network that traverses the whole country and connects it to the world.
——推动交通运输供给侧结构性改革。降低交通运输结构性、制度性、技术性、管理性、服务性成本,促进物流业"降本增效",更好发挥交通运输在物流业发展中的基础和主体作用。
– Advancing supply-side structural reform in transport. China reduces the structural, institutional, technical, administrative, and service costs of transport, helps logistics industry to reduce costs and increase efficiency, so that transport can play the principal role in boosting the development of the logistics industry.
——优化营商环境。加强法治政府建设,合理划分交通运输领域中央与地方财政事权和支出责任,推进简政放权、加强管理、优化服务,健全完善以信用为基础的新型监管机制,提升营商环境的国际化、法治化、市场化水平。
– Improving the business environment. In promoting law-based governance of the country, China properly defines the fiscal powers of the central and local governments in the field of transport and their responsibilities for expenditure, further streamlines administration and delegates powers, strengthens regulation, and provides better services to the transport industry. Efforts have been made to build a new supervision mechanism based on credit, and provide a business environment that is based on market principles, governed by the rule of law, and aligned with international standards.
——增强发展动能。鼓励和规范交通新业态发展,加快推动新旧动能转换,建立多层次、可选择、多元化的运输服务体系,提高交通服务水平。
– Strengthening drivers of development. China encourages and regulates new forms of business in the transport industry, accelerates the transformation of growth drivers, and strives to establish a multilevel transport service system offering high quality and diverse options.
(四)以改革开放为动力
4. Reform and Opening Up as a Driving Force
深化改革、扩大开放是交通运输发展行稳致远的强大动力。坚持社会主义市场经济改革方向,把"有效市场"和"有为政府"更好结合起来,进一步解放和发展交通运输生产力。
Further reform and opening up provides a powerful driving force for steady progress in the transport industry. China perseveres with its reform to build the socialist market economy, and creates stronger synergy between a well-functioning market and an enabling government, so as to unleash the productivity of the transport industry.
——坚持市场化改革。充分发挥市场在资源配置中的决定性作用,更好发挥政府作用,放开交通运输市场,推进质量变革、效率变革、动力变革,着力依靠市场解决发展不充分的问题,更好发挥政府作用解决发展不平衡的问题,不断完善交通运输市场体系,释放交通运输活力。
– Making the transport industry more market-oriented. China ensures that the market plays the decisive role in resource allocation, and that the government plays its role better. The state has lifted restrictions on access to the transport market and is promoting changes for higher quality, efficiency and impetus. It is crucial to rely on the market to tackle insufficient development while better playing the role of the government in addressing unbalanced development, so as to improve the transport market and increase the vitality of the transport industry.
——坚持高水平开放。打开国门搞建设,积极推进交通运输"走出去""请进来",以服务共建"一带一路"为重点,着力推动陆上、海上、天上、网上"四位一体"联通和政策、规则、标准"三位一体"联通,提升与其他国家互联互通水平和国际运输便利化水平。
– Pursuing high-standard opening up. China pursues development with its doors open wide and encourages "bringing in" and "going global" in transport development. Focusing on facilitating cooperation under the Belt and Road Initiative, China makes great efforts to promote land, sea, air and cyber connectivity, and coordination of policies, rules and standards, so as to ensure higher-level connectivity with other countries and facilitate international transport.
(五)以创新驱动为支撑
5. Innovation as Support
创新是交通运输发展的动力源泉。把创新作为推动发展的第一动力,以科技创新为牵引,大力推进管理创新、制度创新、文化创新,完善创新体系,优化创新环境,强化人才支撑。
Innovation is a prime mover in transport development. With technological innovation as a locomotive, China promotes innovation in management, institutions and culture, improves its innovation system and environment, and optimizes its human resources in support of the transport industry.
——以基础设施建养技术迭代升级增强交通运输系统韧性,增强交通基础设施抵御灾害与预警监测能力,提升高速铁路、高速公路、特大桥隧、深水筑港、大型机场工程等建造技术水平。
– Increasing the durability of the transport system through upgrading infrastructure construction and maintenance technologies. China strengthens the disaster-resistance, early warning and monitoring capacity of its transport infrastructure, and improves its engineering technologies for high-speed rail, expressways, mega bridges and tunnels, deep-water ports, large airports and other projects.
——以智慧交通建设推进数字经济、共享型经济产业发展,推动模式、业态、产品、服务等联动创新,提高综合交通运输网络效率,构筑新型交通生态系统。
– Advancing the digital economy and the sharing economy through developing intelligent transport. China fosters a new transport system by promoting coordinated innovation in business models and forms, products, and services, and improving the efficiency of comprehensive transport networks.
——以数字化、网络化、智能化、绿色化技术的发展,拓展交通运输高质量发展空间,抓住全球新一轮科技革命和产业变革催生新技术新模式新业态的历史机遇,推动交通运输可持续发展。
– Raising the quality of the transport industry through digital, internet-based, intelligent and green technologies. China endeavors to seize the historic opportunities provided by a new round of global technological revolution and industrial transformation, and use new technologies and new business models and forms to promote sustainable development of its transport industry.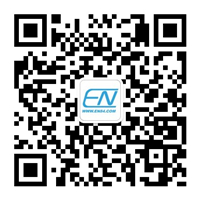 英文巴士公众号
扫一扫,资讯早。