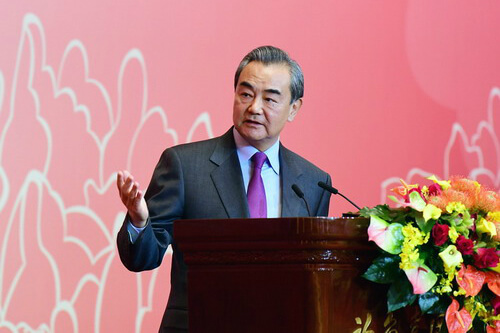 在外交部2020年新年招待会上的致辞
Remarks at the MFA 2020 New Year Reception
国务委员兼外交部长 王毅
H.E. Wang Yi, State Councilor and Minister of Foreign Affairs of The People's Republic of China
2020年1月20日,北京
Beijing, 20 January 2020
尊敬的戴秉国前国务委员:
尊敬的各位使节、代表和夫人,
女士们,先生们,朋友们:
Your Excellency former State Councilor Dai Bingguo,
Your Excellencies ambassadors, members of the diplomatic corps, representatives of international organizations and spouses,
Ladies and gentlemen,
Friends,
大家晚上好!
Good evening!
值此辞旧迎新之际,很高兴同大家齐聚一堂,共话友谊。首先,我谨代表中国外交部,向出席今天招待会的各位使节和代表表示热烈欢迎!对长期以来大力支持外交工作的各部门和各地方的同志表示衷心感谢!
It gives me great pleasure to gather with our distinguished guests here to renew friendship and ring in the new year. On behalf of the Chinese Foreign Ministry, let me extend a warm welcome to all the ambassadors, representatives and members of the diplomatic corps who have joined our reception this evening. My sincere thanks also go to our comrades from the various Chinese ministries, provinces and municipalities for your strong support to our country's foreign relations.
刚刚过去的2019年,是中国人民举国同庆、继往开来的一年。我们隆重庆祝中华人民共和国成立70周年,14亿中国人民紧密团结在以习近平同志为核心的党中央周围,众志成城,拼搏奋斗,共同绘就了国家发展和民族复兴的历史新篇。
For the Chinese people, 2019 was a year of national celebration and of building on past achievements to forge into the future. We warmly celebrated the 70th anniversary of the founding of the People's Republic. United as one, the 1.4 billion Chinese people closely rallied around the CPC Central Committee with Comrade Xi Jinping at its core, made unremitting efforts and achieved new progress in the cause of national development and rejuvenation.
刚刚过去的2019年,是中国外交不畏风雨、坚定前行的一年。我们以习近平外交思想为指引,牢记为人民谋幸福的初心,承担为人类进步作贡献的使命,在乱局中引领方向,在挑战中砥砺奋进,为国家发展稳定提供了有力支撑,为世界和平繁荣作出了重要贡献。
For China's diplomacy, 2019 was a year of pressing ahead despite wind and rain. Guided by Xi Jinping Thought on Diplomacy, we reaffirmed our abiding aspirations to bring happiness to the Chinese people and contribute to progress for humanity. With strong resolve, we charted the course forward amid uncertainties and tackled challenges head on. Our diplomatic endeavors not only bolstered China's development and stability but also made important contributions to world peace and prosperity.
一年来,我们全面深化同各国友好合作,加强全球伙伴关系网络。去年是中俄建交70周年,在两国元首引领下,双方关系携手迈向守望相助、深度融通、开拓创新、普惠共赢的新时代,为维护世界和平稳定发挥着更为关键和重要的作用。中美关系在建交40年之际走到新的历史关头,复杂性和挑战性明显上升,我们在坚决维护自身正当权益的同时,本着平等和相互尊重原则同美方对话协商,达成并签署第一阶段经贸协议,这不仅符合两国和两国人民利益,也受到国际社会普遍欢迎。中欧双方就加强全球治理、坚持多边主义、维护自由贸易等重大问题达成广泛共识,向世界发出中欧深化战略合作、应对全球挑战的明确信号。中国同周边国家关系得到全面改善加强。中朝传统友谊更加巩固,中印关系保持发展势头,中日关系重回正轨并取得新发展,中国与中亚国家互信进一步增强,中国同东盟关系进入全方位发展新阶段。我们继续深化同广大发展中国家之间团结合作。中非合作论坛北京峰会成果落实工作全面铺开,中拉、中阿关系继续走稳走实,南南互信更加巩固,南南合作不断深化。
During the past year, we deepened friendship and cooperation with countries around the world and strengthened our network of global partnerships. Last year marked the 70th anniversary of the diplomatic relations between China and Russia. Under the stewardship of the two Presidents, the China-Russia relationship entered a new era of mutual support, deep convergence, continuous innovation and mutual benefit, making important contributions to world peace and prosperity.
The China-US relationship, which just saw its 40th anniversary, has reached a new historical juncture with notably increasing complexities and challenges. While resolutely safeguarding its legitimate rights and interests, China has conducted dialogue and consultations with the US on the basis of equality and mutual respect. The Phase One Trade Agreement thus concluded and signed serves the interests of both countries and peoples and was welcomed by the international community.
China and Europe reached extensive consensus on strengthening global governance, upholding multilateralism and safeguarding free trade, sending a clear message of China and Europe deepening strategic cooperation and jointly addressing global challenges.
China comprehensively improved and strengthened its ties with neighboring countries. China's traditional friendship with the DPRK was further consolidated. China-India relations kept the momentum of growth. The China-Japan relationship was brought back on track and made new progress. Mutual trust between China and Central Asian countries was further strengthened. China-ASEAN relations were ushered into a new stage of all-round development.
We deepened unity and cooperation with fellow developing countries. The follow-up actions of the FOCAC Beijing Summit were in full swing. China's relations with Latin American and the Caribbean countries and Arab countries continued to make steady and solid progress. All this has helped to increase trust and cooperation under the South-South framework.
一年来,我们推动高质量共建"一带一路",促进与各国的共同发展繁荣。我们成功举办第二届"一带一路"国际合作高峰论坛,推动达成283项合作成果,宣布共建全球互联互通伙伴关系,开启高质量共建"一带一路"新征程。2019年,又有16个国家和国际组织同中国签署共建"一带一路"合作协议,总数已超过200份,中老铁路、雅万高铁、匈塞铁路、蒙内铁路以及中巴经济走廊、中缅经济走廊等一大批重大项目稳步推进。第二届中国国际进口博览会盛况空前,50多万名境内外采购商齐聚一堂,共享中国市场不断扩大的难得机遇。习近平主席在进博会开幕式上倡导建设开放合作、开放创新、开放共享的世界经济,宣布中国更高水平对外开放重大举措,尽显携手世界、共创繁荣的真诚意愿。
During the past year, we advanced high-quality Belt and Road cooperation to promote development and prosperity for all countries. We hosted a successful second Belt and Road Forum for International Cooperation, at which 283 cooperation deliverables were reached and an initiative to jointly build a global partnership on connectivity was announced. This marked the start of a new journey in Belt and Road cooperation, one of high-quality development. In 2019, another 16 countries and international organizations signed Belt and Road cooperation agreements with China, bringing the total number of such documents to over 200.
Steady progress was made in such major projects as the China-Laos Railway, the Jakarta-Bandung High-Speed Railway, the Budapest-Belgrade Railway, the Mombasa-Nairobi Railway, the China-Pakistan Economic Corridor, and the China-Myanmar Economic Corridor. The second China International Import Expo attracted a record attendance of over 500,000 Chinese and overseas buyers to share in the valuable opportunities created by the expanding Chinese market. At its opening ceremony, President Xi Jinping called for the building of an open economy featuring cooperation, innovation and mutual benefits. He also announced major initiatives for China's opening-up at a higher level, thus demonstrating China's commitment to working with the rest of the world for shared prosperity.
一年来,我们高举多边主义旗帜,维护和完善现行国际秩序。从中法全球治理论坛到二十国集团大阪峰会,从圣彼得堡国际经济论坛到金砖国家领导人会晤、亚洲文明对话大会,习近平主席全面阐释多边主义的核心要义和时代内涵,倡导共商共建共享的全球治理观,坚定支持联合国在国际多边事务中发挥核心作用。我们深入参与应对全球气候变化,同法国、联合国专门举行应对气候变化会议。我们还积极参与全球反恐防恐、维护网络安全等领域国际合作,认真履行应尽国际责任和义务,为共同应对全球性挑战作出越来越大贡献。
During the past year, we stayed committed to multilateralism to uphold and improve the existing international order. From the China-France Seminar on Global Governance to the G20 Osaka Summit, from the St. Petersburg International Economic Forum to the BRICS Summit and the Conference on Dialogue of Asian Civilizations, President Xi Jinping expounded on the main tenets of multilateralism and its relevance in today's world. He called for extensive consultation, joint contribution and shared benefits in global governance, and expressed firm support for the United Nations in playing a central role in international affairs. China was deeply engaged in the global response to climate change, and had a tripartite meeting with France and the UN on this theme. We took an active part in international cooperation to fight and prevent terrorism and to protect cybersecurity. We fulfilled our international responsibilities and duties in good faith, and contributed more to the global response to global challenges.
一年来,我们斡旋各种热点问题,有力促进世界和平稳定。在朝鲜半岛,我们始终坚持维护半岛和平稳定、坚持通过对话协商解决问题,主张解决好各方尤其是朝方在安全和发展方面的正当关切,鼓励朝美双方就建立半岛永久和平机制和实现半岛完全无核化形成可操作的路线图。在中东,我们致力于维护伊朗核问题全面协议的权威性和有效性,为巴勒斯坦、叙利亚等热点问题的政治解决仗义执言。首次举办中东安全论坛,提出促进中东安全的中国方案。在南亚,我们穿梭斡旋阿富汗问题,开展中阿巴、中美俄对话,首次举行中美俄巴四方会议,支持阿富汗人加强内部对话。我们还在缅甸和孟加拉国之间居中协调,推动双方相互靠拢,通过双边磋商妥善处理当前的挑战。中方这些努力至公至诚,为政治解决热点问题搭起对话之桥、和平之桥。
During the past year, we played a mediating role in various hotspot issues to effectively promote world peace and stability. On the Korean Peninsula, we stayed committed to safeguarding peace and stability on the Peninsula and to resolving the issue through dialogue and consultation. We called for efforts to properly address the concerns of all parties, in particular, the DPRK's legitimate concerns over its security and development, and encouraged the DPRK and the US to work out a feasible roadmap for establishing a permanent peace regime and realizing complete denuclearization on the Peninsula.
On the Middle East, we stayed committed to upholding the authority and effectiveness of the Joint Comprehensive Plan of Action (JCPOA), and followed a just position in the political settlement of hotspot issues such as Palestine and Syria. We hosted the first Middle East Security Forum, and put forward China's proposals for promoting greater security in the region.
In South Asia, we conducted shuttle diplomacy on Afghanistan, held the China-Afghanistan-Pakistan and the China-Russia-US consultations, hosted the first China-Russia-US-Pakistan four-party meeting, and supported more intra-Afghan dialogue. We used our good offices between Myanmar and Bangladesh to encourage the two sides to work in the same direction and properly handle challenges through bilateral consultations. All these mediation efforts were made from an impartial and sincere position and for the purpose of building bridges of dialogue and peace for the political settlement of hotspots.
2019年,中国为增进同各国的友好与合作付出了真诚努力,为推动世界的和平与发展作出了积极贡献。我们再次以实际行动证明,中国的发展是和平力量的增长,正义力量的增长,进步力量的增长。一个坚定走中国特色社会主义道路的中国,坚定奉行合作共赢理念的中国,将越来越为我们这个充满不确定性的世界发挥中流砥柱的稳定作用!
All in all, 2019 saw China's continued efforts to deepen its friendship and cooperation with other countries and our significant contributions to world peace and development. We have proven time and again with concrete actions that a growing China means a greater force for peace, for justice, and for progress. A China that is firmly committed to the path of socialism with Chinese characteristics and to the pursuit of mutually beneficial cooperation will play an increasing role as an anchor of stability in an uncertain world.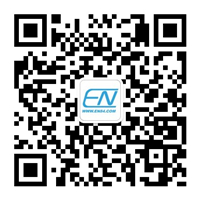 英文巴士公众号
扫一扫,资讯早。