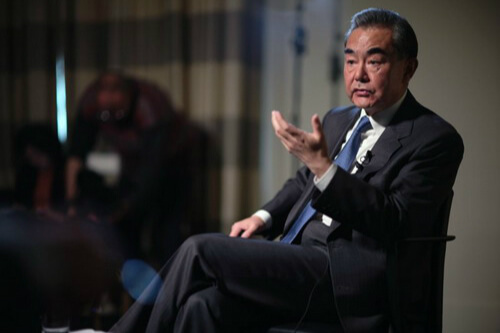 国务委员兼外长王毅接受路透社专访实录
Transcript of State Councilor and Foreign Minister Wang Yi's Exclusive Interview with Reuters
当地时间2020年2月14日,国务委员兼外长王毅在柏林接受路透社副总编加洛尼专访。访谈实录如下:
On 14 February, State Councilor and Foreign Minister Wang Yi sat down with Reuters Global Managing Editor Alessandra Galloni in Berlin for an exclusive interview. The following is the transcript:
Alessandra Galloni: The coronavirus has clearly been tragic for many of your people. It has spread to other parts of the world. It has resulted in travel restrictions. Is China facing a crisis of confidence?
加洛尼:新冠肺炎疫情显然对于中国人民来说是个非常严峻的挑战,同时也蔓延到了世界其他地区。有一些国家对华实行了旅行限制,中国是否面临一场对华信心危机?
王毅:这场疫情突如其来,确实给中国和世界带来了一次严峻挑战。但在习近平主席领导下,中国政府和人民经受住了考验,用自己的努力甚至牺牲赢得了国际社会的尊重和认可。
Wang Yi: This sudden outbreak of novel coronavirus pneumonia (NCP, or COVID-19) is a severe challenge to China and the world at large. Under the leadership of President Xi Jinping, the Chinese government and people have withstood the test and won the respect and recognition of the international community with their efforts and even sacrifice.
疫情发生后,中国政府第一时间建立举国体制,汇集全国资源,采取了最全面、最严格、最彻底的措施迎击疫情,其中很多措施都超出了国际卫生条例的要求和世界卫生组织的建议。我们以中国速度日以继夜抢救每一位患者的生命,用中国力量众志成城阻止疫情的进一步蔓延。经过艰苦努力,疫情总体上得到了控制。湖北以外地区确诊病例数量连续11天下降,下降幅度超过50%,治愈人数快速上升,已经有近7000位患者康复出院,全国病亡率控制在2.2%左右,如果不算湖北则在0.49%。这些事实和数据充分说明,中国采取的果断措施是正确和有效的,这次疫情总体上也是可控和可治的。正如习近平主席指出,我们完全有信心、有能力、也有把握早日战胜疫情。
After the outbreak, the Chinese government immediately set up a nationwide mechanism to mobilize resources from across the country. We have taken the most comprehensive, stringent and thorough prevention and control measures, many of which are well beyond what is required by the International Health Regulations and the recommendations of the World Health Organization (WHO).
With the Chinese speed, we are working day and night to save the life of every patient. With the Chinese strength, we are united as one to contain the further spread of the epidemic. Through these arduous efforts, the epidemic is generally under control. For example, outside Hubei, the number of confirmed cases has been declining for 11 consecutive days across China. That is a cumulative drop of over 50 percent. There is a rapid increase in the cure rate, and nearly 7,000 people have recovered and been discharged from hospital. The case fatality rate is about 2.2 percent nationwide and just 0.49 percent outside Hubei.
These facts and data show that China's decisive response is both right and effective, and that by and large, the outbreak is controllable and the disease curable. As President Xi Jinping points out, we have the confidence, capability and determination to prevail over the virus at an early date.
作为一个负责任大国,中国从一开始就采取公开、透明的态度,及时向国际社会通报疫情信息,开展国际合作,努力阻止疫情在全球扩散。截止到现在,在中国境外的确诊病例数量不到总数的1%。中国不仅全力维护了本国人民的生命安全和身体健康,也为全球公共卫生安全做出了贡献,付出了牺牲。世卫组织多次高度赞赏中国的负责任态度,充分肯定中国采取的果断措施,对中国战胜疫情充满信心。
As a responsible major country, China has from the start acted in an open and transparent manner in releasing relevant information to the world and seeking international cooperation to prevent the spread of the epidemic worldwide. To date, the number of confirmed cases outside China is less than one percent of the total. We are not only doing our very best to ensure the life, safety and health of the Chinese people, but also making contribution and sacrifice for global public health. WHO has on multiple occasions commended China for its responsible actions, speaking highly of China's decisive response and expressing confidence that China will overcome this epidemic.
病毒没有国界,需要国际社会共同面对。已经有160多个国家和国际组织负责人发电或发函,对中国表示慰问和支持。几十个国家政府和人民纷纷向中国伸出援手。对于这些善意,我们表示衷心感谢。
Virus respects no borders. It requires a collective response from the international community. To date, leaders of over 160 countries and international organizations have expressed their sympathy and support through telegrams or letters. The governments and peoples of several dozen countries are lending a helping hand, and we are truly grateful for these acts of kindness.
一些国家采取了加强检测的措施,有其合理之处。但也有一些国家反应过度,引发不必要的恐慌,也不符合世卫组织的建议。我相信,随着疫情得到进一步控制,这些国家也会思考放宽限制。毕竟国与国之间需要开展正常的交往与合作。
In our view, the enhanced inspection measures taken by some countries are reasonable, but some other countries have overreacted. Their overreaction has caused unnecessary panic and is not consistent with the WHO recommendations. I believe as the epidemic is gradually brought under control, these countries may consider relaxing the restrictions. At the end of the day, normal exchanges and cooperation among countries must be maintained.
中国有句话,"烈火炼真金"。我们相信,经过这场疫情考验,中国人民将会更加坚强团结,中国经济将更加稳健可持续,全体中国人民会以更坚实步伐,实现全面小康,迈向现代化进程。中国还有一句话叫做"患难见真情"。在共同抗击疫情的斗争中,中国同各国之间的友谊和信任将得到加强和深化。各国都会意识到,我们身处一个地球村,国与国的命运已经紧密地联系在一起。
There is a Chinese saying: True gold can stand the test of fire. I'm sure that emerging from this test, the Chinese people will become more resilient and united and the Chinese economy will achieve more solid and sustainable growth. The Chinese people will continue to march confidently toward the goal of establishing a society of moderate prosperity in all respects and embark on a new journey of modernization.
There's another Chinese saying, "Adversity reveals true friendship." As China battles the disease together with the world, its friendship and trust with other countries will be strengthened and deepened. Countries will realize that they live in a global village, with their future interconnected like never before.
Alessandra Galloni: You talked about transparency, but initially China was not forthcoming about the virus, including when there were some people in China who were warning about it. Can you explain why's that decision?
加洛尼:您刚才谈到透明,但是一开始中方对疫情形势的判断和了解并不是很完整,中国国内有人更早提出了相关预警,最终的决定是怎么做出的?
王毅:这次疫情是由一个新型病毒导致的,自然有一个认识和鉴定的过程。实际上每次世界上发生疫情,各国政府作出最终决定前,都必须经过认真和反复论证,这是一种负责任的态度。中国政府发现病例后,在第一时间采取措施,并向世卫组织作了通报。同时经过认真评估,在很短时间内确定这是新型病毒疫情,迅速建立起覆盖全国的联防联控机制。我们这次采取的措施非常及时,动作非常迅速。这也是世卫组织总干事到中国考察后得出的结论。
Wang Yi: Well, this is a new virus. So naturally it takes time for people to gain more understanding and knowledge about it. The same has happened in other countries. If we look at past epidemics, we will see that the government will eventually make decisions based on serious and repeated tests and study. That is how a responsible government deals with it.
After individual cases emerged, the Chinese government took prompt actions and informed the WHO at the first opportunity. At the same time, we have made rigorous assessments. In a short period of time, we identified and decided that this is a new virus. Once that decision was made, a nationwide inter-agency task force was quickly put in place. The measures taken by China are timely and swift. This is also the conclusion of the WHO Director-General after his visit to China.
Alessandra Galloni: You said some countries have overreacted. Which countries?
加洛尼:您说有一些国家实际上做了过度反应,请问是哪些国家?
王毅:我并不想列举这些国家的名字,各国都有其自己的考虑和理由。我想大家都看得见,一些国家采取的措施远远超出了世界卫生组织的建议,比如全面关闭人员往来,又如不仅从武汉撤出人员,而且还要从疫情并不严重、只有个别病例的地区撤出人员。我们不会干涉别国的决定,但这些措施是否有利于各国共同应对这场疫情,要划一个大大的问号。
Wang Yi: I don't want to single out individual countries. They have their own judgments and reasons. Everybody can see that the measures taken by those countries go far beyond the recommendations of the WHO. For example, measures have been taken to comprehensively stop people-to-people exchanges. And not only people in Wuhan are evacuated, people in regions where there are only isolated cases or where the epidemic is not severe are also pulled out. We do not interfere with the decisions of other countries. However, when these measures are taken, we must see whether they are truly beneficial to a joint response to the epidemic. There is a question mark on it.
Alessandra Galloni: This is a big challenge to President Xi. How is the government dealing with this?
加洛尼:对于习近平主席来说,这次疫情是一个相当大的挑战。中国政府对此如何回应?
王毅:这场疫情防控阻击战,是一场总体战,也是人民战争,每个人都做出努力,每个人都发挥作用。在习近平主席亲自指挥部署下,我们迅速建立了覆盖全国的联防联控机制。在中国960万平方公里土地上,14亿人民团结一致,把疫情防控做得如此彻底、如此全面,这是史无前例的,在很多国家也是难以想像的,但是,中国做到了。可能仍会有个别人提出质疑,但绝大多数国家都对此表示了高度赞赏,指出只有在中国,只有在习近平主席领导下,才得以有效管控住这场突如其来而且传播速度相当快的疫情,中国不仅有力维护了本国人民的生命健康,也阻止了疫情向世界的快速扩散。
Wang Yi: This is a comprehensive battle and a people's war, with every person pitching in and playing a role. President Xi is personally overseeing and guiding the response to the epidemic. We quickly set up a national framework of epidemic control on this land of 9.6 million square kilometers and with 1.4 billion people. We are doing everything we can, leaving no stone unturned, in our efforts to contain and mitigate this epidemic. This is an unprecedented endeavor, which is probably unimaginable in many countries. But China pulled this off.
There may be certain questions or challenges to China. Yet the overwhelming majority of countries have expressed their appreciation for what China has been doing. They clearly recognized that only in China and only under the leadership of President Xi can there be such effective measures to put this sudden and fast spreading epidemic under control. What we're doing is protecting the health of the Chinese people and preventing this epidemic from further spreading to other parts of the world.
我举个例子。中国每年最重要的节日就是春节。习近平主席就是在中国农历新年的第一天,亲自主持召开中共中央政治局常务委员会会议,就应对疫情作出全面部署和动员,由此展开了全国范围内疫情防控阻击战。农历新年第一天召开中央政治局常委会会议,在中国历史上前所未有,这恰恰体现了习近平主席本人对这场疫情的敏锐洞察力和卓越领导力,彰显了一声令下中国强大的动员力。
I can give you an example. The Spring Festival is one of the most important holidays in China. On the very first day of the Spring Festival holiday, President Xi convened the highest level meeting of the governing body, which is the meeting of the Standing Committee of the Political Bureau of the Central Party Committee, to draw up a comprehensive plan on responding to this epidemic, which initiated this nationwide battle against the epidemic. It has never happened before in Chinese history to have the highest-level meeting of the Standing Committee of the Political Bureau on the first day of the Spring Festival. It shows President Xi's penetrating grasp of the situation, his outstanding leadership and China's strong mobilization capability.
Alessandra Galloni: Has the US done anything to help China with the coronavirus?
加洛尼:美国到现在为止有没有采取一些行动来帮助中方抗击疫情?
王毅:特朗普总统多次公开表态,支持中国抗击疫情,对中国取得胜利展现信心。他还主动给习近平主席打电话,转达他本人对中国的支持。美国社会各界和民间行动起来,向中国捐款、捐物。这些物资正在陆续运到中国武汉。我们近日也听到美国政府宣布准备出资1亿美元帮助中国和其他有需要的国家,我们对此表示赞赏。建议美方尽快将这笔资金用在他们认为需要的地方。
Wang Yi: President Trump has, on many occasions, publicly expressed his support to China's battle against the epidemic and his confidence that China will win the final victory. He called President Xi to convey his personal support to China. And all sectors in the US and the American people have acted to provide assistance to China, including cash and supplies. Those assistance is being delivered to Wuhan in different batches.
The latest news is that the US government is prepared to offer US$100 million to help China and other countries in need. We appreciate this goodwill gesture. We suggest that the assistance provided by the US be channeled and delivered as soon as possible to where the US believes are most in need.
Alessandra Galloni: Moving on to trade, but with a breach from coronavirus, does China have problems meeting its obligations to import more products and services from the United States because of the virus outbreak?
加洛尼:问一个关于贸易的问题,也是跟新冠肺炎疫情有关。中方在履行中美第一阶段经贸协议关于进口更多美国产品和服务的承诺上是否面临困难?
王毅:中国是一个重信守诺的国家,只要我们同意的事情,都会说到做到。中美第一阶段经贸协议,是在平等和相互尊重基础上达成的。中方愿同美方共同努力,把这个协议落实好,使其真正有利于中国,有利于美国,有利于整个世界。
Wang Yi: We the Chinese people always honor our commitments. For whatever promise we have made, we will deliver on that. The phase one trade agreement has been reached between the two sides based on equality and mutual respect. We stand ready to work with the US to implement this agreement, which is good for China, good for the US and good for the world at large.
中国已经准备好。我们的市场足够大,尽管疫情对中国经济带来一些暂时的影响,但是疫情过后,积累的消费需求会快速释放,中国经济的动能会强力反弹,市场规模也会持续扩大。我们正在按照自己的时间表和路线图,深入推进改革,扩大开放,实现协议中达成的其他共识,也不存在问题。
China is ready for that. The Chinese market is big enough to withstand the impact of the epidemic, which is temporary. When the epidemic is over, the subdued consumer demand will be released rapidly, the dynamism of China's economy will rebound strongly, and the market will continue to grow. We are advancing reform and opening up according to our own timetable and roadmap. There is no problem on the implementation of other aspects of the agreement.
现在出现的一个新情况是,由于美方全面限制中美人员往来,客观上会对履行协议带来一些困难。我希望美方能思考这个问题,怎么在继续防范疫情的前提下,尊重世卫组织提出的建议,不采取不必要的贸易和人员限制,克服可能会对履行协议带来的不便。双方应共同努力,把协议执行好。中国会履行我们做出的承诺,美方也应履行好他们在第一阶段协议中对中方做出的承诺。
I do see one issue that is happening. Given the US' highest-level travel advisory against China, practically that will bring about some challenges to the implementation of the agreement. We hope the US could think about this. While fighting the epidemic, what it could do to respect WHO's professional advice and refrain from taking unnecessary trade and travel restrictions in order to overcome the challenges to the implementation of this agreement. As long as the two sides are working together, I am sure that the implementation will be good. China will keep up its end of the bargain. We hope the US will do the same.
Alessandra Galloni: Will China negotiate for any change to the phase one trade deal? And what are your expectations for phase two?
加洛尼:中方是否会通过磋商对第一阶段经贸协议做出一些调整?中方对于第二阶段经贸协议磋商的期望是什么?
王毅:已经达成的协议为什么要做出调整?第一阶段协议不仅涉及贸易,还包括很多其他领域,比如知识产权、汇率和金融等等。这是一个内容很丰富的协议。现在应当集中精力把第一阶段协议落实到位,看到实实在在的成果,不仅推动中美两国贸易走向正常和健康轨道,同时也促进全球经济的增长。在此过程中双方可以不断积累和总结经验,之后再考虑第二阶段的问题。我认为这是合情合理的处理办法。
Wang Yi: Since we have this phase one agreement, I don't see any need to adjust it. The phase one trade agreement is not only about trade, but also concerns other aspects including IPR protection, exchange rates and financial services. So this is a wide-ranging agreement.
What we hope to do at the moment is to concentrate on the implementation of phase one agreement. We want to see real tangible results, and that will not only help bring China-US trade onto the track of sound and healthy development, but also help with global economic growth. While we implement the phase one agreement, we will accumulate experience, look back at the experience, and then we can proceed to see how we will enter into phase two trade talks. That would be a workable approach.
Alessandra Galloni: Yesterday, the United States charged Huawei of stealing trade secrets from US companies. What is the Chinese government's response?
加洛尼:昨天,美国宣布了针对华为的一些新指控,包括偷窃美国公司商业机密,中国政府对此有何回应?
王毅:我们不知道美国这个超级大国为什么要动员国家力量,甚至调动其所有盟友来无端打压一家中国企业。华为是百分之百的民营企业,是靠自己的汗水、智慧,凭借市场竞争发展起来的。美国如此打压恐怕只有一个理由,就是华为发展得太好了。但美国企业可以发展得很好,为什么中国企业就不能凭借自身努力发展得好一些?美国为何不能接受别的国家的企业也能够在经济、科技方面崭露头角?恐怕内心有一种阴暗的心理,就是不希望看到别的国家发展起来,不希望看到别国的企业也能够做大做强。美方甚至通过编造谣言来诋毁别国企业,总是说华为有后门,损害了美国安全,但是到现在为止,也没有拿出任何实实在在的证据。从维基解密和斯诺登事件可以看出,反而是其他通讯企业在做这些事情。华为已经正式、公开地向世界宣示,愿意同任何国家和组织签署无后门协议,通过法律约束力来证明自己的清白和透明。这难道还不够吗?还要继续打压华为吗?这种作法不仅没有道理,甚至是不道德的。我们看到很多国家,比如英国和德国,并没有一味听信谣言,在维护好本国通讯基础设施安全基础上,愿意给其他各国企业包括华为提供一个公平竞争的环境。我认为这才是符合市场规则的,也是一个独立主权国家做出的明智和正确选择。
Wang Yi: We cannot understand why the United States, a superpower, is employing its state power and mobilizing its allies to attack Huawei, which is a private company. Huawei is a one-hundred-percent private business. It has developed itself in market competition, relying on its own diligence, hard work and wisdom. The only reason that the United States is doing that is maybe Huawei is doing too well. The US companies can excel and succeed, but why can't a Chinese company succeed by relying on its own efforts? Why can't the United States accept other countries' businesses to excel and perform well in their economy and technology?
I'm afraid that the United States has its own dark intentions sometimes. It doesn't want to see other countries develop. It doesn't want to see other countries' businesses grow and succeed. It has been spreading rumors to smear other countries' businesses. The United States has been claiming that Huawei products have the backdoor that will undermine US national security. But so far it hasn't produced any credible evidence.
As we can see from Wikileaks and the Snowden incident, it is other telecom companies that are doing these things. Huawei has publicly pledged that they could sign no-backdoor agreement with any government and organization if they so wish. Huawei wants to clear its name and show its transparency in this legal form. Isn't that enough? Why is there still the attempt to attack this company? It doesn't make sense. And it is immoral.
Fortunately, many countries, including the UK and Germany, have not been misled by this rumor. While they are doing their best to ensure the security of their telecommunication infrastructure, they are trying to provide a level playing field for businesses of other countries, including Huawei. I believe this is a practice consistent with market rules. These countries are making the sensible and right decision as independent sovereign states.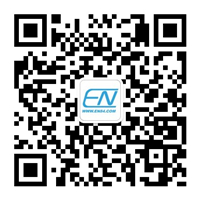 英文巴士公众号
扫一扫,资讯早。