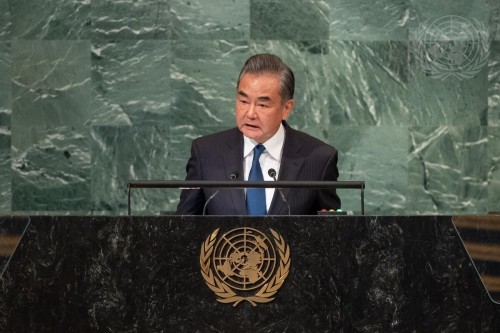 为和平发展尽力 为团结进步担当文章源自英文巴士-https://www.en84.com/13721.html
Making Every Effort for Peace and Development and Shouldering the Responsibility for Solidarity and Progress文章源自英文巴士-https://www.en84.com/13721.html
文章源自英文巴士-https://www.en84.com/13721.html
——在第77届联合国大会一般性辩论上的演讲文章源自英文巴士-https://www.en84.com/13721.html
– Statement at the General Debate of the 77th Session of the United Nations General Assembly文章源自英文巴士-https://www.en84.com/13721.html
文章源自英文巴士-https://www.en84.com/13721.html
中华人民共和国国务委员兼外交部长 王毅文章源自英文巴士-https://www.en84.com/13721.html
H.E. Wang Yi, State Councilor and Foreign Minister of the People's Republic of China文章源自英文巴士-https://www.en84.com/13721.html
文章源自英文巴士-https://www.en84.com/13721.html
2022年9月24日,纽约文章源自英文巴士-https://www.en84.com/13721.html
New York, September 24, 2022
主席先生,各位同事:
Mr. President,
Dear Colleagues,
这是一个充满挑战的时代。新冠肺炎疫情延宕反复,国际安全形势持续不靖,全球经济复苏脆弱曲折,各种风险危机层出不穷。世界进入新的动荡变革期,百年未有之大变局加速演进。
We are at a time fraught with challenges. The COVID-19 pandemic has kept resurfacing. Global security faces uncertainty. Global economic recovery is fragile and unsteady, and various risks and crises are emerging. The world has entered a new phase of turbulence and transformation. Changes unseen in a century are accelerating.
这也是一个充满希望的时代。世界多极化、经济全球化、社会信息化、文化多样化深入发展,各国联系和依存日益加深。和平与发展的时代主题没有改变,各国人民求进步、促合作的愿望更加强烈。
But we are also at a time full of hope. The world continues to move toward multi-polarity; economic globalization is deepening, and our societies are becoming increasingly digitized and culturally diversified. Indeed, countries are becoming ever more interconnected and interdependent. Peace and development remain the underlying trend of our times. Around the world, the people's call for progress and cooperation is getting louder than ever before.
如何回应时代的要求,把握历史的潮流,共同构建人类命运共同体,中国的主张坚定而明确:
How should we respond to the call of our times and ride on the trend of history to build a community with a shared future for mankind? China's answer is firm and clear:
第一,要和平,不要战乱。习近平主席指出,和平犹如空气和阳光,受益而不觉,失之则难存。和平是一切美好未来的前提,也是各国共同安全的基础。动荡战乱如同打开潘多拉盒子,挑动代理人战争极易反噬自身,追求自身绝对安全必然损害全球战略稳定。我们要坚持以和平方式处理分歧,以对话协商解决争端。
First, we must uphold peace and oppose war and turbulence. Chinese President Xi Jinping notes that peace, like air and sunshine, is hardly noticed when we are benefiting from it. But none of us can live without it. Peace is crucial for our future and it underpins common security of all countries. Turbulence and war can only open Pandora's box, and he who instigates a proxy war can easily burn his own hands. Pursuing one's own absolute security can only undermine global strategic stability. We should remain committed to addressing differences through peaceful means and resolving disputes through dialogue and consultation.
第二,要发展,不要贫困。发展是破解各种难题、实现人民幸福的关键。我们要坚持把发展置于国际议程中心位置,凝聚促进发展的国际共识,维护各国正当发展权利,培育全球发展新动能,构建全球发展伙伴关系,让发展成果更多更公平惠及每一个国家、每一个人。
Second, we must pursue development and eliminate poverty. Development holds the key to resolving difficult issues and delivering a happy life to our people. We should place development at the center of the international agenda, build international consensus on promoting development, and uphold all countries' legitimate right to development. We should foster new drivers for global development, forge a global development partnership, and see that everyone in every country benefits more from the fruits of development in a more equitable way.
第三,要开放,不要封闭。习近平主席指出,开放是人类社会繁荣进步的必由之路。搞保护主义只会作茧自缚,断链脱钩必将损人害己。我们要倡导开放包容,拆除阻碍生产要素自由流动的藩篱壁垒,维护以世界贸易组织为核心的多边贸易体制,推动构建开放型世界经济。
Third, we must remain open and oppose exclusion. President Xi Jinping once pointed out that openness is the sure way to realize human prosperity and advancement. Protectionism can only boomerang and decoupling and supply chain disruption will hurt both those who practice them and others. We should stay true to openness and inclusiveness and tear down fences and barriers that hinder the free flow of factors of production. We should uphold the multilateral trading system with the WTO at its core and endeavor to build an open world economy.
第四,要合作,不要对抗。面对层出不穷的全球性挑战,最强大的力量是齐心合力,最有效的方法是同舟共济,最光明的前景是合作共赢。国与国之间难免存在矛盾和分歧,但应在平等和尊重的基础上增进相互了解。要以对话代替冲突,以协商代替胁迫,以共赢代替零和,共同抵制集团政治,共同反对阵营对抗。
Fourth, we must stay engaged in cooperation and oppose confrontation. As we face a host of global challenges, our biggest strength will come from solidarity; our best strategy is to stick together through thick and thin; and the brightest prospect is win-win cooperation. It is only natural that countries sometimes have problems and differences among them, but they should increase mutual understanding on the basis of equality and respect. We should engage in dialogue, consultation and win-win cooperation, and reject conflict, coercion and zero-sum game. We should jointly oppose group politics and bloc confrontation.
第五,要团结,不要分裂。习近平主席指出,世界各国乘坐在一条命运与共的大船上,要穿越惊涛骇浪、驶向光明未来,必须同舟共济。永续发展的世界应该承载多彩的文明,人类的现代化应当兼容多样的道路。和平、发展、公平、正义、民主、自由是全人类共同价值,制度差异不应成为制造分裂的理由,民主和人权更不应被政治化、工具化、武器化。我们应摒弃意识形态划线,团结起来为促进世界和平与发展事业凝聚最大公约数,画出最大同心圆。
Fifth, we must strengthen solidarity and oppose division. President Xi Jinping once stated that countries around the world are like passengers aboard the same ship who share a common stake. All of us passengers should pull together to navigate the ship through storm toward a bright future. Our world must embrace diverse civilizations if it is to make continuous advances, and mankind must pursue an inclusive path if it is to achieve modernization. Peace, development, fairness, justice, democracy and freedom are common values of humanity. Difference in system should not be used as an excuse to create division; still less should democracy and human rights be used as tools or weapons to achieve political ends. We should stand against drawing lines on ideological grounds, and we should work together to expand common ground and convergence of interests to promote world peace and development.
第六,要公平,不要霸凌。大小国家相互尊重、一律平等是联合国宪章首要原则。国际大事要由各国共同参与,国际规则要由各国共同制定。这个世界上不存在高人一等的国家,也不应动辄以实力地位霸凌其它主权国家。我们要积极倡导和践行真正的多边主义,推动各国权利平等、规则平等、机会平等,构建相互尊重、公平正义、合作共赢的新型国际关系。
Sixth, we must uphold equity and oppose bullying. Mutual respect and equality of countries big and small is a primary principle of the UN Charter. Major international issues should be handled by all countries, and international rules should be drawn up by all countries together. No country is above others, and no country should abuse its power to bully other sovereign countries. We should promote and practice true multilateralism, promote equality of all countries in terms of rights, rules and opportunities, and build a new type of international relations featuring mutual respect, equity and justice, and win-win cooperation.
主席先生,各位同事,
Mr. President,
Colleagues,
作为联合国安理会常任理事国和世界上最大的发展中国家,中国坚定站在团结合作一边,站在时代潮流一边,站在绝大多数国家共同利益一边。
China, as a permanent member of the UN Security Council and the world's largest developing country, is committed to boosting solidarity and cooperation with other countries. It will follow the trend of the times and pursue the shared interests of the vast majority of countries.
中国始终是世界和平的建设者。我们积极推进国际和平事业,参与国际军控、裁军和防扩散进程,是派遣维和人员最多的安理会常任理事国,是联合国第二大会费和维和摊款国。中国还是世界上唯一将"坚持和平发展道路"载入宪法的国家,是五核国中唯一承诺不首先使用核武器的国家,是为维护全球战略稳定作出重要贡献的国家。
China has been a builder of world peace. We have actively promoted the cause for international peace and participated in the international arms control, disarmament and non-proliferation process. China is the top contributor of peacekeeping personnel among the permanent members of the UN Security Council; and it is the second largest funding contributor to both the UN and its peacekeeping operations. China is the only country in the world that pledges to "keep to a path of peaceful development" in its Constitution. It is the only one among the five Nuclear-Weapon States that is committed to no-first-use of nuclear weapons. China has thus made important contribution to maintaining global strategic stability.
面对当今各种安全挑战,习近平主席提出了全球安全倡议,呼吁国际社会坚持共同、综合、合作、可持续的安全观,坚持尊重各国主权、领土完整,坚持遵守联合国宪章宗旨原则,坚持重视各国合理安全关切,坚持通过对话协商和平解决争端,坚持统筹维护传统和非传统安全,为弥补人类和平赤字贡献了中国智慧,为应对国际安全挑战提供了中国方案。
In response to various security challenges facing the world, President Xi Jinping proposed the Global Security Initiative. He called on the international community to pursue common, comprehensive, cooperative and sustainable security, to respect the sovereignty and territorial integrity of all countries, to abide by the purposes and principles of the UN Charter, to take the legitimate security concerns of all countries seriously, to peacefully resolve disputes through dialogue and consultation, and to maintain security in both traditional and non-traditional domains. By putting forward this initiative, he has contributed China's vision to reducing the peace deficit facing humanity and provided China's input to meeting global security challenges.
中国始终是全球发展的贡献者。我们积极打造高水平对外开放体系,维护全球产业链供应链安全稳定,已成为130多个国家和地区的主要贸易伙伴,中国作为世界经济增长的最大引擎,每年对全球增长的贡献达到30%左右。中国模范落实联合国2030年可持续发展议程,提前10年实现议程减贫目标,对全球减贫贡献率超过70%。中国积极参与全球治理和南南合作,主动成立"中国—联合国和平与发展基金""全球发展和南南合作基金",向160多个有需要的国家提供发展援助,也是二十国集团中落实对发展中国家缓债金额最大的成员国。
China has been a contributor to global development. We have endeavored to build a system of high-standard opening-up and safeguard the security and stability of global industrial and supply chains. China is a major trading partner of over 130 countries and regions. Contributing about 30 percent of annual global growth, China is the biggest engine driving the global economy. China is a pacesetter in implementing the UN 2030 Agenda for Sustainable Development. It has met the poverty reduction goal ten years ahead of the envisioned timeframe and accounts for 70 percent of the gains in global poverty reduction. China is also an active participant in global governance and South-South cooperation. It set up the China-UN Peace and Development Trust Fund and the Global Development and South-South Cooperation Fund. It has provided development aid to more than 160 countries in need, and extended more debt-service payments owed by developing countries than any other G20 member state.
习近平主席在第76届联大上郑重提出全球发展倡议,秉持以人民为中心理念,吹响了重新聚焦发展的"集合号",呼吁国际社会构建全球发展共同体。前不久,习近平主席主持全球发展高层对话会,就落实倡议宣布了数十项重大务实举措,为加快落实2030年可持续发展议程注入强劲动力。本届联大期间,中方主持召开"全球发展倡议之友小组"部长级会议,为推进倡议汇聚新的共识。中国发展的快车奔驰向前,将继续为世界增长提供动能,为各国人民增添福祉。
At the 76th session of the UN General Assembly, President Xi Jinping proposed the Global Development Initiative. Putting the people at the center, this initiative is a rallying call to refocus attention of the international community on development and build a global community of development. At the recent High-level Dialogue on Global Development he chaired, President Xi Jinping announced several dozen concrete major steps to implement this initiative, generating strong impetus for accelerating the implementation of the 2030 Agenda for Sustainable Development. On the margins of this General Assembly session, China has hosted a ministerial meeting of the Group of Friends of the Global Development Initiative, building more consensus on pursuing this initiative. As China forges ahead, its fast train of development will continue to drive global growth and deliver more benefits to the people of all countries.
中国始终是国际秩序的维护者。我们历来坚定维护联合国宪章宗旨和原则,维护以联合国为核心的国际体系,维护以国际法为基础的国际秩序。中国全方位参与多边事务,加入了几乎所有普遍性政府间国际组织和600多项国际公约,对外缔结超过2.7万项双边条约,认真履行自身国际义务。中国始终遵循《世界人权宣言》,驰而不息保障和加强中国的人权事业,同时坚决反对人权政治化图谋,推动国际人权合作的健康发展。
China has been a defender of the international order. We are committed to upholding the purposes and principles of the UN Charter, the international system with the UN at its core and the international order based on international law. China has been involved in multilateral affairs in all fields. It is a member of almost all universal inter-governmental organizations and a party to over 600 international conventions. It has concluded more than 27,000 bilateral treaties and fulfilled in good faith its international obligations. China abides by the Universal Declaration of Human Rights and has made relentless efforts to protect and strengthen its human rights. At the same time, China is firmly against attempts to politicize human rights and has worked to advance the healthy development of international human rights cooperation.
作为发展中国家的一员,中国永远站在广大发展中国家一边。我们对发展中国家近年来取得的快速进步感到由衷高兴,将继续为发展中国家仗义执言、纾困解难,全力支持提升发展中国家在国际事务中的代表性和发言权。在国际多边进程中,广大发展中国家不再是"沉默的大多数",中国与发展中国家更加团结起来,发出正义呼声,成为推进发展合作、维护公平正义的中流砥柱。
As a member of the developing world, China will forever stand together with other developing countries. We are heartened to see the rapid progress achieved by the developing world in recent years, and we will continue to speak up for other developing countries, help them overcome difficulties and fully support efforts in raising the representation and say of developing countries in international affairs. Developing countries are no longer the "silent majority" in international and multilateral processes. With stronger solidarity among ourselves, we China and other developing countries have spoken out for justice, and we have become a pillar of promoting development cooperation and safeguarding equity and justice.
中国始终是公共产品的提供者。面对新冠疫情,中国全力推动和参与国际抗疫合作,尽己所能提供抗疫物资、分享防疫经验,最早承诺将新冠疫苗作为全球公共产品,最早支持疫苗知识产权豁免,已向120多个国家和国际组织提供超过22亿剂疫苗。
China has been a provider of public goods. In the face of COVID-19, China has made all-out efforts to advance and engage in global cooperation against the pandemic. We have done our best to provide anti-pandemic supplies and shared our practices on combating the virus. China is among the first to promise making COVID-19 vaccines a global public good and to support waiving intellectual property rights on the vaccines. China has provided over 2.2 billion doses of vaccines to more than 120 countries and international organizations.
面对困扰世界的发展难题,习近平主席倡导推进高质量共建"一带一路",得到国际社会的广泛欢迎。中方已同世界上149个国家和32个国际组织签署合作文件,还创建了亚投行、丝路基金,打造了最具广泛性和包容性以及最大规模的国际合作平台。
In response to tough challenges confronting global development, President Xi Jinping proposed to advance high-quality Belt and Road cooperation, an initiative that has been widely endorsed by the international community. China has signed cooperation documents with 149 countries and 32 international organizations. We have set up the Asian Infrastructure Investment Bank and the Silk Road Fund, thus building the most extensive, inclusive and largest platforms for international cooperation.
面对各国在数据安全上的共同关切,我们发起《全球数据安全倡议》,为制定全球数字安全规则提供借鉴。
In response to the shared concerns of various countries about data security, we launched the Global Initiative on Data Security as our contribution to formulating rules on global data security.
面对全球气候变化,中方坚定走生态优先、绿色低碳发展道路,宣布富有雄心的"双碳"目标,推动落实《巴黎协定》,植树造林占全球人工造林四分之一,为构建人与自然生命共同体付出不懈努力。
In response to climate change, China is committed to pursuing a development path that puts ecological conservation first, one of green and low-carbon growth. We announced the ambitious carbon peaking and carbon neutrality goals and are working to implement the Paris Agreement. China accounts for one-fourth of all the trees planted globally. We have been making unremitting efforts to foster a community of life for man and Nature.
面对全球粮食安全问题,中国提出国际粮食安全合作倡议,今年以来,已向有需要的发展中国家提供1.5万多吨紧急人道粮援。
In response to global food security challenges, China has put forth a cooperation initiative on global food security. This year, we have provided over 15,000 tons of emergency humanitarian food assistance to other developing countries in need.
中国始终是热点问题的斡旋者。作为负责任大国,中国努力探索和践行中国特色热点问题解决之道,在坚持不干涉内政前提下,根据当事国意愿和需要,建设性参与热点问题解决,以劝和促谈为主要方式,以公平务实为主要态度,以标本兼治为主要思路。
China has been a mediator of hotspot issues. As a responsible major country, China has explored workable Chinese approaches to solving hotspot issues. While adhering to the principle of non-interference in others' domestic affairs and respecting the will and needs of the countries concerned, China has endeavored to help settle hotspot issues in a constructive way. Our approach is one of promoting peace through negotiation, one that is both fair and pragmatic and that aims to address both the symptoms and root causes of hotspot issues.
中方支持一切有利于和平解决乌克兰危机的努力。当务之急是劝和促谈,治本之策是照顾各方合理安全关切,构建均衡、有效、可持续的安全架构。我们呼吁各方抑制危机外溢效应,维护发展中国家正当权益。
China supports all efforts conducive to the peaceful resolution of the Ukraine crisis. The pressing priority is to restore peace through negotiation. To achieve a fundamental solution, it is important to address the legitimate security concerns of all parties concerned and build a balanced, effective and sustainable security architecture. We call on all parties concerned to keep the crisis from spilling over and protect the legitimate rights and interests of developing countries.
巴勒斯坦问题是中东问题的核心,正义已经迟到,但绝不能缺席。"两国方案"是公道正义的底线,必须坚守。中国一如既往支持巴勒斯坦人民恢复民族合法权利的正义事业。
The Palestinian question is at the heart of the Middle East issue. Justice is already late in coming, but it must not be absent. The two-state solution is crucial for upholding fairness and justice. China will continue to support the Palestinian people in pursuing their just cause of restoring legitimate national rights.
解决朝鲜半岛核问题,要正本清源,坚持"双轨并进"和"分阶段、同步走",共同维护半岛和平稳定,通过对话协商解决问题。
To resolve the Korean Peninsula nuclear issue, it is important to address its root cause. We need to follow the dual-track approach and take phased and synchronized steps. We should jointly uphold peace and stability on the Korean Peninsula and resolve the issue through dialogue and consultation.
阿富汗正处在由乱及治的关键时期。包容建政、温和施政是方向,恢复经济、改善民生是根本,坚决打恐、融入地区是重点。
Afghanistan is in a critical transition from chaos to order. The right way forward is to put in place an inclusive political framework and adopt moderate policies. The goal should be to resume economic growth and improve people's lives. To achieve this goal, Afghanistan should combat terrorism and integrate itself into the region.
少数国家滥施单边制裁、切断发展援助、冻结他国合法资产的错误做法必须纠正。中国坚定支持古巴人民捍卫国家主权、反对外来干涉和封锁的正义斗争。
A small number of countries have arbitrarily imposed unilateral sanctions, cut off development aid and frozen lawful assets of other countries. This is an unacceptable practice that must be corrected. China firmly supports the Cuban people in their just struggle to defend their sovereignty and oppose external interference and blockade.
全球枪支泛滥问题日趋严重。我愿在此宣布,中国已决定启动联合国《枪支议定书》的国内批准程序,将为加强全球枪支管控合作、消弭安全赤字作出新的贡献。
The abuse of guns is becoming an increasingly serious problem across the world. Here, I announce that China has decided to launch its domestic procedure to ratify the UN's Firearms Protocol, a step that will contribute to strengthening global cooperation on gun control and closing the security deficit.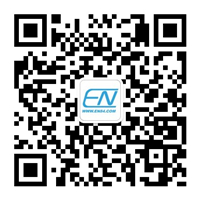 英文巴士公众号
扫一扫,资讯早。