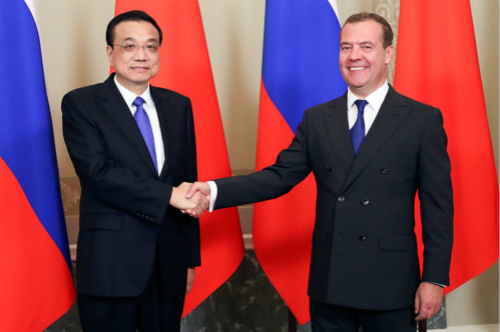 李克强总理接受俄罗斯塔斯社书面采访
Premier Li Keqiang's Written Interview with Russian News Agency TASS
2019年9月15日,在对俄罗斯联邦进行正式访问并举行中俄总理第二十四次定期会晤前夕,国务院总理李克强接受俄罗斯塔斯社书面采访。全文如下:
On 15 September 2019, Premier Li Keqiang gave Russian News Agency TASS a written interview on the eve of his official visit to the Russian Federation and the 24th regular meeting between the Chinese and Russian heads of government. The full text of the interview runs as follows:
问:今年是俄中建交70周年,两国关系进入新时代,请问总理先生,您如何评价俄中关系70年来的发展成果?您对未来两国关系发展有何期待?
Q1. This year marks the 70th anniversary of the establishment of diplomatic relations between China and Russia. China-Russia relations have entered a new era. Mr. Premier, how do you evaluate the progress of the bilateral ties in the past seven decades? What is your expectation for this relationship going forward?
答:很高兴在中俄建交70周年之际,应俄罗斯总理梅德韦杰夫邀请对俄进行正式访问,并举行中俄总理第二十四次定期会晤。中俄互为最大邻邦。70年来,两国关系走过了不平凡的发展历程,日益稳定、成熟、坚韧,处于历史上最好时期。双方顺应世界发展大势,开创性地建立了不结盟、不对抗、不针对第三方的新型国家关系模式。双方互相视彼此为本国外交优先方向,建立起完备的高层交往和各领域合作机制,开展内容丰富、具有战略意义的务实合作,形成全方位、深层次、立体式互利合作格局,取得了惠及两国人民的丰硕成果。中俄同为联合国创始会员国和安理会常任理事国,在国际事务中密切协作、展现担当,成为维护世界和平稳定的中坚力量。
Li: I am delighted to be visiting the Russian Federation on the occasion of the 70th anniversary of China-Russia diplomatic relations. I will be making an official visit and attend the 24th regular meeting between the Chinese and Russian heads of government at the invitation of Prime Minister Medvedev. China and Russia are each other's biggest neighbors. The bilateral relationship has come a long way in the past 70 years. It has grown increasingly stable, mature and resilient, and is now at its best in history. In keeping with the prevailing trend of the world, we have pioneered a new type of state-to-state relationship featuring non-alliance, non-confrontation and non-targeting at any third party. Taking relations with each other as a priority in our external relations, we have developed a full range of mechanisms for high-level engagement and cross-sector cooperation. We have conducted practical cooperation of rich substance and strategic significance. Our all-dimensional, deep-going and multi-tiered cooperation has delivered bountiful benefits to people of both countries. As founding members of the United Nations and permanent members of the UN Security Council, China and Russia have engaged in close coordination on international affairs and actively fulfilled our responsibilities as underpinning forces for world peace and stability.
今年6月,习近平主席成功对俄罗斯进行国事访问,同俄方将两国关系提升为新时代全面战略协作伙伴关系。当前世界形势风云变幻,国际格局深度调整,中俄关系站在新的历史起点上,面临新机遇、新任务、新挑战。中方愿同俄方一道努力,与时俱进,开拓创新,共同维护好、发展好中俄关系。双方要坚持巩固战略互信,加大相互支持,牢牢把握两国关系前进的大方向,不受外界因素的干扰。双方要发挥互补优势,推动"一带一路"倡议同欧亚经济联盟更好对接,深化利益融合,夯实两国关系发展的物质基础。双方要传承世代友好,加强互学互鉴,促进民心相通和民意相融。双方要坚定捍卫以联合国为核心、以国际法为基础的国际体系,共同推动建设新型国际关系、构建人类命运共同体,维护世界和平稳定和公平正义。
During President Xi Jinping's successful state visit last June, China-Russia relationship was elevated to the comprehensive strategic partnership of coordination for a new era. In face of the shifting dynamics in the international environment, China-Russia relations have come to a new starting point with new opportunities, new tasks and new challenges. China stands ready to work with Russia to advance with the times and break new grounds in jointly sustaining and growing our bilateral ties. The two sides need to consolidate strategic trust and enhance mutual support to firmly keep the bilateral relations on the right track, free from external disturbances. We need to harness our comparative strengths to enhance the synergy between the Belt and Road Initiative and the Eurasian Economic Union, and expand the convergence of interests to cement the material foundation for our relations. We need to carry forward the traditional friendship, strengthen mutual learning, and develop closer people-to-people ties. We need to firmly uphold the UN-centered international system anchored by international law, and jointly build a new type of international relations and a community with a shared future for mankind to safeguard world peace, stability, fairness and justice.
70年是里程碑,也是新起点。中俄关系历久弥坚,正迸发出强大活力。同道相益,同心共济。相信在双方携手努力下,中俄新时代全面战略协作伙伴关系必将不断取得新成果,为两国各自发展振兴和世界繁荣安宁作出更大贡献。
The 70th anniversary of China-Russia relations is both a milestone and a new start. The time-tested China-Russia relationship, driven by common aspirations and shared interests, is brimming with vigor and vitality. I am confident that, with joint efforts, our comprehensive strategic partnership of coordination for a new era will score new achievements and make greater contribution to the development and renewal of our two countries and to the prosperity and tranquility of the world.
问:俄中总理定期会晤作为统筹两国务实合作的重要机制平台,将如何推动双方务实合作在新时代取得更大发展?双方将聚焦哪些方向,采取哪些新举措?
Q2. The regular meeting between the Chinese and Russian heads of government is an important mechanism providing overall guidance to the practical cooperation between the two countries. How will this mechanism catalyze greater progress of the bilateral cooperation in the new era? What will be the priority areas? What new measures will be taken?
答:中俄总理定期会晤是中国对外合作机制中建立最早的机制之一,迄今已成功举办23次,这本身就说明中俄关系与务实合作的高水平。23年间,这一机制日益成熟、完善,统筹规划和协调推动作用更加强劲有力。
Li: The regular meeting between the Chinese and Russian heads of government is one of the first cooperation mechanisms China established with other countries. The fact that such meetings have so far been successfully held 23 times speaks volumes about the sophistication of our bilateral ties and practical cooperation. In the past 23 years, this mechanism has grown from strength to strength, playing an ever-stronger role in planning, coordinating and advancing our bilateral cooperation.
中俄互为重要合作伙伴。两国着眼实现共同发展振兴,坚持将深化务实合作、扩大共同利益作为中俄新时代全面战略协作伙伴关系发展的重要方向。双方坚持优势互补,互利共赢,实现了传统产业合作与新兴产业合作并行推进,务实合作量与质同步提升。去年两国贸易额首次突破1000亿美元,增幅达27.1%。中国已经连续9年成为俄罗斯第一大贸易伙伴,是俄罗斯的最大进口来源国和出口目的地国。今年上半年,两国贸易投资继续保持较快增长,这一成绩在全球贸易投资放缓大背景下来之不易,也表明中俄务实合作前景广阔。两国能源、航空航天、互联互通等领域战略性合作扎实推进,中俄东线天然气管道、同江铁路桥、黑河公路桥等一批投资大项目已经进入收尾季。农业、金融、科技、电商等新兴领域合作蓬勃发展,地方间合作实现深度对接和更广覆盖。中俄务实合作取得的丰硕成果,既增进了两国人民的福祉,也为世界经济发展增添了积极因素。
China and Russia see in each other an important cooperation partner for shared progress and prosperity, and we take expanding practical cooperation and shared interests as an overarching goal of our comprehensive strategic partnership of coordination for a new era. By leveraging our comparative strengths for mutual benefit, we have succeeded in pushing forward cooperation in both traditional sectors and emerging industries, and achieved an uplift in both quantity and quality. Last year, two-way trade surged by 27.1%, breaking the US$100 billion mark for the first time. China has been Russia's top trading partner for nine years running, and is also Russia's largest source of imports and destination for exports. In the first half of this year, the bilateral trade and investment maintained brisk growth, boding well for a broad prospect of our practical cooperation. Such performance has truly been a hard-won achievement given the downturn in global trade and investment. The two countries are making solid progress in strategic cooperation in energy, aviation, space and connectivity. Major projects such as the eastern route of the natural gas pipeline, the Nizhneleninskoye-Tongjiang Railway Bridge and the Blagoveshchensk-Heihe Highway Bridge are nearing completion. Cooperation in new areas including agriculture, finance, science and technology, and e-commerce is flourishing. Sub-national cooperation is deepening and expanding. It is fair to say that China-Russia practical cooperation, with its fruitful outcomes, has contributed to the well-being of both peoples and to the growth of the world economy.
我此次访俄期间,双方将梳理合作成果,规划合作方向,推动双方务实合作迈上新台阶。双方将坚持创新思路,多措并举,不断开拓合作新疆域,深挖合作新潜力。双方将坚持相互扩大开放,放宽投资和市场准入,为两国企业创造更多合作良机。双方将继续发挥好大中型企业主力军作用,推进战略性大项目,也将吸引中小企业加入电子商务、数字经济等新兴产业合作,打造两国合作可持续发展的生力军。双方还将继续拓展科技领域合作。中俄都是具有深厚创新底蕴的大国,都在大力推进创新驱动发展战略。双方已经决定2020年、2021年互办"中俄科技创新年"。两国要以此为契机,将中方的产业、资金和市场优势与俄方的资源、科技和人才优势结合起来,为经济社会发展注入新动能。相信在两国政府和业界共同努力下,中俄务实合作在新时代一定会创造出更多丰硕成果,更好造福两国人民。
During my visit, the two sides will take stock of the progress made and plan for the future in a bid to raise the bilateral practical cooperation to a higher level. The two sides will continue to follow an innovative and multi-pronged approach to open up new areas and unlock new potentials of cooperation. Committed to greater two-way openness, the two sides will expand investment and market access to create more opportunities for the business communities. We will continue to leverage the role of large and medium-sized companies as the main force to advance major strategic projects, and attract small and medium-sized firms to the cooperation in emerging industries such as e-commerce and the digital economy to drive sustained growth of the bilateral cooperation. The two sides will continue to expand technological cooperation. Both China and Russia have built a solid foundation for innovation, and are pursuing innovation-driven development. We have designated the years of 2020 and 2021 "Year of Scientific and Technological Innovation" in each other's countries. We will use this opportunity to integrate China's industrial, capital and market advantages with Russia's strengths in resource, technology and talent to lend new impetus to our economic and social progress. I am confident that with the joint efforts of the two governments and business communities, China-Russia practical cooperation will achieve more fruitful results and deliver greater benefits to people of the two countries in the new era.
问:最近几年有观察家看到中国经济增速正在下降。您是否将此视为对提升国民生活水平的威胁?国内生产总值增速下降过程中是否有任何"红线"?中国是否会在这种复杂的局势下调整社会经济发展计划?
Q3. Some observers have noted a slowdown in China's growth in recent years. Do you see this as a threat to the rising living standards of the Chinese people? Is there any "red line" for the slowdown of GDP growth? Will China adjust its social and economic development plan amid such a complex situation?
答:中国经济经过几十年的高速发展,去年国内生产总值已经达到13.6万亿美元,占世界经济的比重近16%。今年中国经济发展预期目标是经济增长6%-6.5%、城镇调查失业率5.5%左右、居民消费价格涨幅3%左右。从前八个月情况看,中国经济运行总体平稳、稳中有进,上半年国内生产总值同比增长6.3%,主要经济指标符合预期、处于合理区间,经济结构持续优化,高质量发展积极因素增多。在当前国际形势错综复杂的背景下,在较高的基数上,中国经济还能够保持6%以上的中高速增长,是十分不容易的,这一速度仍然位居世界主要经济体前列。
Li: After decades of high-speed growth, China's GDP reached US$13.6 trillion last year, accounting for nearly 16% of the global economy. The projected targets for China's economic development this year include 6-6.5% of growth in GDP, around 5.5% of surveyed urban unemployment and around 3% of CPI increase. The first eight months saw overall stability and steady progress in China's economic performance. In the first half of this year, GDP grew by 6.3% year-on-year, major economic indicators were consistent with expectations and maintained within a proper range, the economic structure continued to improve, and positive factors for high-quality development increased. In today's complex international environment, it is no mean feat for China to sustain a medium-high growth of above 6% on top of such a large base. This growth speed is among the highest in the major economies.
中国政府坚持以经济建设为中心,同时努力在发展中更好地保障和改善民生。近几年,虽然经济增速有所放缓、财政收支平衡压力加大,但基本民生投入只增不减,人民生活持续改善。一是保持居民收入增长与经济增长基本同步。中国人均国内生产总值已接近1万美元,全国居民人均可支配收入年均增长超过7%,城乡居民收入差距逐步缩小。去年底农村贫困人口减少到1660万人,明年将实现全面脱贫目标。二是确保就业大局稳定。就业是最大的民生。中国政府始终把稳就业摆在突出位置,我们稳增长主要是为保就业。只要就业比较充分,收入持续增加,环境质量不断改善,增速高一点低一点都是可以接受的。我们实施就业优先政策,多措并举稳定和扩大就业。城镇新增就业连续6年超过1300万人,全国城镇调查失业率稳定在5%左右的相对较低水平。近14亿人口的发展中大国,实现了比较充分就业。三是不断提高社会保障水平。加快发展教育、医疗、养老、文化、体育等社会事业,财政性教育经费占国内生产总值比例超过4%,织就了世界上最大的社会保障网,持续提高城乡低保、抚恤等救助标准,居民预期寿命达到77岁,人民获得感显著增强。
The Chinese government takes economic development as the central task and works to better ensure and improve people's well-being in the process of development. Despite a slower growth and increased fiscal constraints in recent years, government spending in meeting essential livelihood needs has kept expanding, delivering continued improvement in people's lives.
First, we have kept personal income growth basically in step with economic growth. China's per capita GDP has reached nearly US$10,000. People's per capita disposable income has grown by over 7% on average annually. The urban-rural income gap has continuously narrowed. By the end of last year, rural poor population had dropped to 16.6 million and we expect to achieve the goal of making abject poverty history in China next year.
Second, we have ensured overall stability in employment. Employment is of paramount importance to people's lives. The Chinese government puts stable employment high on its agenda and its efforts to maintain steady growth are primarily aimed at ensuring employment. When there is relatively full employment, steady income increase and improvement in the environment, we can well live with some fluctuations of growth speed relative to our projected target. We are implementing an employment-first policy and taking a wide range of measures to ensure and expand employment. Over 13 million new urban jobs have been created each year in the past six years, and the surveyed urban unemployment rate nationwide has been kept at around 5%, a relatively low level. China, a major developing country with close to 1.4 billion people, has achieved fairly full employment.
Third, we have enhanced social security and accelerated the development of social undertakings involving education, medical care, aged care, culture and sports. We have kept budgetary spending on education at above 4% of GDP. We have put in place the world's largest social safety net and kept raising the subsistence allowance in urban and rural areas and assistance benefits for entitled groups. The life expectancy of the Chinese people has reached 77 years and they now lead a much better and more fulfilling life.
当然,受世界经济增长放缓、保护主义和单边主义上升等因素影响,中国经济也面临一定下行压力,但中国经济发展有巨大的韧性、潜力和回旋余地。一是庞大的国内市场将持续释放需求拉动力。中国既是"世界工厂",也是"世界市场",居民消费加快升级,基础设施、企业技术改造等领域仍需要大量投资,日益拓展的国内需求成为中国经济抵御外部冲击的有力支撑。二是不断深化的改革开放将进一步激发经济活力。中国大力推进市场化改革,不断扩大对外开放,着力完善市场化、法治化、便利化营商环境。目前市场主体已经超过1.1亿户,日均新登记企业仍高达1.9万户以上,亿万人民强烈的干事创业热情汇聚形成不竭的发展动力。同时,外商投资保持稳定增长。三是足够的宏观调控手段和能力将创造稳定的发展环境。多年以来,面对经济下行压力,中国政府坚持不搞"大水漫灌"式强刺激,而是不断创新和完善宏观调控,保持了较低的政府负债率,为应对可能出现的风险预留了政策空间。针对当前经济形势的变化,中国政府将在保持宏观政策连续性稳定性的基础上,运用好逆周期调节工具,实施大规模减税降费、增加专项债券使用、降低融资成本、鼓励创业创新等政策,夯实微观经济基础。中国政府完全有信心、有能力克服各种风险挑战,保持经济平稳健康发展。
That said, China's economy also faces certain downward pressure due to the slowing global growth and rising protectionism and unilateralism. Yet China's economy has tremendous resilience, potential and flexibility. First, the huge domestic market will unleash continued demand to drive growth. China is both a "world factory" and a "world market". Its consumer spending is upgrading at a faster pace, and there is massive investment demand in infrastructure development and technological transformation of enterprises. The expanding domestic demand has become a strong underpinning for China's economy in withstanding external shocks.
Second, deepening reform and opening-up will further energize the economy. China is making great efforts to advance market-oriented reform and expand opening-up, with a focus on fostering a more enabling and market-based business environment governed by a sound legal framework. There are over 110 million market entities in China and more than 19,000 businesses get registered every day on average. The passion among the hundreds of millions of Chinese people for career advances and entrepreneurial success provides an inexhaustible driving force for development. In the meantime, foreign investment in China has maintained steady growth.
Third, ample means and capabilities for macro regulation at our disposal will help to foster a stable environment for development. In face of the downward economic pressure over the past few years, the Chinese government has refused to flood the economy with massive stimulus. Instead, we have developed new and improved approaches to macro regulation, kept a fairly low debt-to-GDP ratio, and preserved policy space for tackling potential risks.
In response to the new developments in the economic situation, the Chinese government will, while keeping the macro policies consistent and stable, properly employ counter-cyclical regulatory tools. We will execute large-scale tax and fee cuts, increase the use of special bonds, lower financing costs and encourage business start-ups and innovation so as to strengthen the foundation for the micro economy. The Chinese government has full confidence and ability in overcoming the risks and challenges and maintaining steady and sound economic development.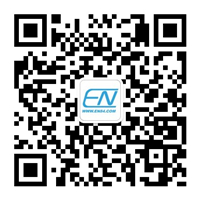 英文巴士公众号
扫一扫,资讯早。