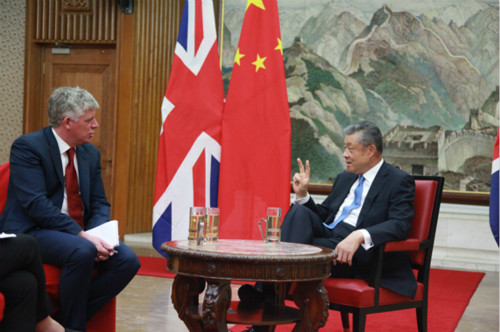 驻英国大使刘晓明就中国对英投资接受《中国日报》专访
Ambassador Liu Xiaoming's Interview with China Daily on Chinese Investment in the UK
2017年9月1日,驻英国大使刘晓明接受《中国日报》欧洲分社社长李文莎和高级编辑厄克特专访,强调中国投资对英国是机遇不是威胁。《中国日报》英国版及其网站予以全文刊登。专访实录全文如下:
On 1 September 2017, China Daily published an interview with Chinese Ambassador Liu Xiaoming to the UK in its newspaper and on its website. Ambassador Liu stressed that Chinese investment in the UK is an opportunity not a threat. The full text is as follows:
中国日报:近年来,中国对英投资迅速增长,成为中英经贸合作中的最大亮点之一。请问原因何在?中国投资主要集中在哪些领域?
China Daily: Recent years have seen rapid increase of Chinese investment in the UK which becomes a major highlight of China-UK business cooperation. What is the reason behind such growth? What areas are the Chinese investors focusing on?
刘大使:中国有句古语叫"志合者,不以山海为远。" 今年是中英建立大使级外交关系45周年,也是中英关系"黄金时代"深入发展之年。中英经贸关系一直是中英关系的"稳定器"和"助推器"。近年来,两国相互投资迅猛发展,已经成为两国互利合作的一大亮点。
Ambassador Liu: There is an old saying in China, "Mountains and seas cannot distance people who are of the same mind." This year marks the 45th anniversary of the ambassadorial diplomatic relations between China and Britain and it is also a year for consolidating the China-UK Golden Era. Business ties between our two countries have always been a stabilizer and propeller for our bilateral relations. The rapid growth of mutual investment over the years has become a major highlight of our mutually beneficial cooperation.
我在英工作7年多,出席最多的活动之一就是中国在英企业的开业仪式。举例而言,不久前我参加了总部基地皇家阿尔伯特码头项目开工庆典仪式,该项目总投资规模达17亿英镑,是中国企业在英开发的首个绿地项目,也是中资企业在英首个采用混合融资模式合作的大型项目,建成后将成为集商业、住宅、零售为一身的综合体,成为伦敦打造第三大商务金融区的主要项目,将有力推动整个东伦敦地区的发展。
For seven years and more in the UK, I have attended more opening ceremonies of Chinese businesses in Britain than any other events. Recently, I attended the groundbreaking ceremony of ABP Royal Albert Dock in London. This project, with a total investment of 1.7 billion pounds, is the first greenfield project invested by Chinese businesses and the first Chinese-invested major project in Britain with mixed financing. The Dock will be built into an urban complex of offices, homes and retail commerce. It will go on to become an important part of London's third business and financial district which will vigorously drive the development of eastern London.
该项目只是中国在英众多投资的一个缩影。目前中国在英非金融类直接投资达180亿美元,500多家中资企业落户英国,居欧洲之首。投资项目众多,领域不断扩大,正在从贸易、金融、电信等传统部门向新能源、高端制造、基础设施、研发中心等广泛领域延伸。
This project is an epitome of Chinese investment in Britain. So far, non-financial direct investment from China has totaled at 18 billion US dollars and more than 500 Chinese companies have settled down in Britain, more than any other European country. The expansion is not only seen in the number of investment projects, but also in the width of areas, expanding from traditional sectors such as trade, finance, telecommunication to other fields including new energy, high-end manufacturing, infrastructure, R&D, etc.
我认为中国对英投资面临三大机遇:
I believe there are three opportunities for Chinese investors coming to Britain.
一是"黄金机遇"。习近平主席2015年对英进行"超级国事访问",双方同意构建面向21世纪全球全面战略伙伴关系,开启了中英关系"黄金时代"。2016年杭州和2017年汉堡G20峰会上,习主席和梅首相两次会晤,再次确认中英关系"黄金时代"的大方向。两国高层互动频繁,政治互信不断增进,为中国对英投资迅速增长提供了"黄金机遇"。
First, the "Golden Opportunity". Chinese President Xi Jinping's "Super State Visit" to the UK in 2015 heralds the building of the China-UK global comprehensive strategic partnership for the 21st century and the China-UK Golden Era. During the G20 Hangzhou Summit 2016 and the Hamburg Summit 2017, Chinese President Xi and British Prime Minister May reaffirmed in their meeting the shared commitment to jointly building the China-UK Golden Era. The frequent high-level interactions and strengthened political mutual trust create a "golden opportunity" for China's rapidly growing investment in the UK.
二是发展机遇。中英两国发展战略高度契合,为中英加强投资合作提供了源源不断的动力。一方面,中方正努力将"一带一路"倡议、"十三五"规划、"中国制造2025"等与英国现代产业发展战略、"英国工业2050"等进行对接,不断拓展在新能源、高铁、机场等基础设施投资领域合作。另一方面,英国在高科技、金融、创意产业等领域实力强大,市场开放度和成熟度高,营商环境规范透明、便捷便利,一直是世界上投资吸引力最高的国家之一。中国在资本、劳动力、市场转化能力、高铁、新能源等方面优势突出,双方完全可以通过深化合作实现优势互补,共同发展。
Second, the development opportunity. China and the UK have highly similar development strategies, which will produce inexhaustible dynamics for investment cooperation.
On one hand, China is working hard to dovetail its Belt and Road Initiative, 13th Five-Year Plan and Made in China 2025 with the UK's Industrial Strategy and UK Industry 2050 and working with Britain to expand investment cooperation into infrastructure building related to new energy, high speed rail, airport, etc.
On the other hand, Britain has a series of advantages such as leading capabilities in high-tech, finance and creative industry, an open, mature market, and a rule-based, transparent and convenient business environment. They make Britain one of the most attractive investment destinations in the world. China has sufficient capital and human resources, strong marketing capabilities and advanced high-speed rail and new energy technologies. Our two countries can put our respective strengths together for common development through closer cooperation.
三是历史机遇。目前,中国经济稳步发展,在民族振兴和建设小康社会道路上不断迈出新步伐,为包括英国在内的世界各国稳定与发展提供了持久、强劲的动力。英国与欧盟脱欧谈判已全面展开,各方对谈判前景众说纷纭。但稳定、繁荣的英国和欧洲符合各方利益,也是大家的共识。我认为,英国脱欧,机遇与挑战并存,机遇大于挑战。英方正致力于打造"全球化英国",多次表明脱欧后将坚持包容开放、坚持自由贸易,这将为中国投资者提供难得的历史机遇。
Third, the historic opportunity. At present, China's economy is growing steadily. China is on its way towards national renewal and moderate prosperity. This is providing lasting, strong momentum to sustain stability and boost growth in the world, Britain included.
Britain is already in negotiation with the EU on Brexit. Despite of different predictions on the prospects of the negotiation result, a stable and prosperous Britain and Europe serves the interests of all and remains a broad consensus. I think Brexit brings both challenges and opportunities but there are far more opportunities than challenges. Britain's commitment to building a truly "Global Britain", to staying open and upholding free trade also means historic opportunities for Chinese investors.
中国日报:据英国媒体报道,英国政府可能会成立"投资审查委员会",负责监督外国对英投资是否存在国家安全隐患。你对此主要有哪些关切?
China Daily: It is said that the British Government plans to set up a new investment review body to see if foreign investment imposes threats to the UK's national security. Are you concerned about this?
刘大使:我注意到近期一些媒体关于英国拟成立"投资审查委员会"的报道,但英国政府迄未发布正式声明。对外资并购进行正常的项目评审、安全审核、环境评估,中方不持异议,但坚决反对以任何理由对中国投资实行歧视性的措施。希望英方能排除保护主义思潮干扰,继续保持自信,切勿戴着"冷战"色彩的有色眼镜看待中国投资。
Ambassador Liu: I have taken notice of recent reports in the media about the possible establishment of an "investment review body". But so far, the British Government has made no official announcement.
China has no objection to Britain's regular project, environment and security evaluation on business acquisitions. But we are opposed to any discriminative measures under any excuses against Chinese investors. We hope the British side will have enough confidence to steer clear of protectionist measures rather than looking at China's investment through "cold war tainted spectacles".
中国是英国在欧洲外的第二大贸易伙伴,英国是吸引中国投资最多的欧洲国家。这一成绩来之不易,是双方共同努力的结果。中方始终致力于推动经济全球化和贸易投资自由化,反对贸易保护主义,不断扩大对外开放。我们希望英国在制定投资政策时,坚持非歧视和透明化原则,充分考虑和维护包括中国企业在内各国投资者的合法权益,继续营造开放和公平的竞争环境。
Thanks to joint efforts, China is now the UK's second largest trading partner outside Europe while Britain is the biggest destination for Chinese investment in Europe. This has not come easily. China is committed to economic globalization, and trade and investment liberalization. We oppose to protectionism and will continue to open up wider to the world. We hope the British side will not discriminate against foreign investment and stay transparent in making relevant policies, fully recognize and protect the legitimate interests of foreign investors including those from China, and continue to ensure an open environment and a level playing ground for business.
我们将继续关注英国的外资政策调整动向,及时表明中方立场,并提醒中国企业。同时,继续鼓励有意愿、有能力、有条件的中国企业"走出去","走进英国",按照市场原则和国际惯例,深化务实合作,实现互利共赢。
China will continue to follow closely any adjustment made to Britain's foreign investment policy, so as to make clear where we stand and advise Chinese investors duly and in time. In the meantime, we will continue to encourage Chinese companies that are ready and able to expand their internationally operations by investing overseas, including coming to the UK, to follow market rules and international practice and to seek in-depth cooperation and win-win results with their global partners.
中国日报:一些英国政客认为,中国对英投资令人担忧,所以需要成立上述委员会。你对此怎么看?
China Daily: Some British politicians express concerns over China's investment in the UK, which necessitates the set-up of the above-said review body. What's your take?
刘大使:英国是全球对贸易和投资最开放、最自由的大国之一。但近期英国媒体和一些政客担心"中国买断英国",炒作所谓"中国投资威胁论",主张采取"贸易与投资保护主义"措施限制中国投资。同时,我们也注意到,英国企业界主流并不支持这样的做法,认为这是自由贸易的倒退,不利于英国经济发展。我认为所谓"中国投资威胁论"的担忧不仅站不住脚,也是有害的。
Ambassador Liu: Britain is one of the world's most liberal and open-minded nations in trade and investment. But recently, from the British media and some politicians, we hear worries about "China's appetite to buy out Britain", claims that "Chinese investment threatens the UK's national security", and demands for "protection against investment from China." I also noted that the mainstream view of the British business community is not in support of this but rather believes this is a step backward from free trade and will do no good to Britain's economy. I think the arguments of the so-called "Chinese investment threats" are groundless and harmful.
首先,中国对英投资是公开透明的,不会威胁英国国家安全。中国企业在英投资主要集中在民用、民生领域,即便参与通讯、核电等一些重要基础设施领域,也严格遵循英方环保、卫生、安全等各项法律法规,积极履行企业社会责任,为当地创造大量就业机会,得到各界充分肯定。一些人可能对中国企业"走出去"还不甚了解,担忧所谓"国有"背景或安全隐患。实际上很多中国国企都是上市企业,经营标准与欧美跨国企业相仿,业绩公开透明,并且民企投资的比重也不断上升。华为、吉利、比亚迪、递四方、Powerlink等都是中资民企在英投资合作的典范。
First, Chinese investment in the UK is open and transparent. It will pose no threat to the UK's national security. Chinese investment in Britain mainly focuses on civil and livelihood related areas. In some key infrastructure projects such as communication and nuclear plants, Chinese investors' strict adherence to British laws and regulations in environment, health and security, their efforts to fulfil corporate social responsibility, and their contribution to creating jobs, have been widely recognized.
People who know little about Chinese companies operating internationally often point to their "state-owned" background as potential security risks. In fact, many state-owned enterprises in China are listed companies. They are no different in operation standards from those European or US multinationals and their business performances are completely open and transparent to the public. Moreover, more and more Chinese investors coming to the UK are private businesses. Huawei, Geely, BYD, 4PX and Powerlink are all good examples of private Chinese companies investing in the UK.
其次,应以开放、包容、自信的心态看待外国对英投资。英国虽然只有24万平方公里国土和6500多万人口,但长期在国际政治、经济、科技、文化等领域拥有重要影响,重要原因之一就是英国始终坚持开放包容的精神,这已成为英国延续成功的精神基因。伦敦金融城就是最好的例子。伦敦金融城号称只有"1平方英里",但其不仅是伦敦乃至英国的经济心脏,也是享誉全球的国际金融中心,这离不开它开放的心态和包容的监管环境。为打造"全球化英国",英方也更需要将这种开放包容精神发扬光大。英国拥有健全的外资并购审查和监管体系,《英国企业法》、《金融服务与市场法》等法律有关规定全面、严格,在对待外资方面英方理应拥有足够的自信。
Second, Britain needs to be open-mined, inclusive and confident when it comes to foreign investment. Britain is a country with a territory of 240,000 square kilometers and a population of 65 million people. But this country's long standing, huge influence in international politics, economy, science and technology, culture, etc, remain globally visible till this day. A key to Britain's continued success is its open and inclusive business attitude.
One case in point is the City, the "square mile" renowned not only as the heart of London and the British economy but also a financial centre of the world. This could not have been possible without the City's open, liberal and inclusive policies and environment. The UK on its way to building a "Global Britain" should continue to live up to such spirit. The UK's sound inspection and monitoring system for foreign acquisitions, underpinned by the UK Company Law, the Financial Services and Markets Act 2000 and other laws, should be a source of confidence.
中国日报:英国从中国投资中能够得到什么好处?
China Daily: What are the benefits expected from the Chinese investment?
刘大使:中国企业在对英投资时不仅关注自身商业利润,也着眼长远,注重互利共赢,为英国经济社会发展贡献力量。在此我仅列举其中三大贡献:
Ambassador Liu: Chinese companies not only look for profits for themselves. They also look for win-win results so that business could last. They want to see what they could do to contribute to Britain's economic and social development. Let me list three major contributions by Chinese investors.
首先,中国投资为英国创造了大量就业岗位和税收。以中广核参与投资建设的欣克利角核电项目为例,该项目建设预计将为英国创造2.6万个就业岗位。中石油在英合资公司自2011年成立以来,累计向英政府纳税85.5亿英镑,为当地提供超过5千个就业岗位。
First, Chinese investors help create a large number of jobs and tax revenue for the UK. In the case of Hinkley Point C nuclear power projects, partly invested by Chinese company CGN, this is expected to create 26,000 jobs. Another joint venture with China National Petroleum Corporation has, since its establishment in 2011, paid 8.55 billion pounds in tax to the British Government and created more than 5,000 jobs locally.
其次,中国投资积极推动了英国绿色、低碳发展。据估算,欣克利角核电项目建成运营后,相当于每年减排二氧化碳900万吨。吉利公司在考文垂投资2.5亿英镑建设新厂,2018年零排放的伦敦出租车即将问世。
Second, Chinese investment help boost UK's green and low carbon development. It is estimated that upon completion, the Hinkley Point nuclear plant will help reduce nine million tons of carbon dioxide annually. The 250-million-pound auto plant invested by Geely in Coventry will put zero-emission cabs in the street by 2018.
最后但也是更重要的是,中国企业通过加大对英投资,用实际行动为英国未来发展投下了信任票和支持票,为英国长期繁荣稳定作出了积极贡献。
Last but not least, increasing investment by Chinese businesses represents a vote of confidence for the UK's future. This will contribute to the long-term prosperity and stability of the UK.
中国日报:如果上述"投资审查委员会"成立,将对今后中国对英投资会产生什么影响?
China Daily: What impact will Chinese investment sustain if the above-mentioned investment review body were established?
刘大使:我此前说过,目前还未看到英国政府发布成立"投资审查委员会"的正式消息。我想指出,中国企业到英国来,为的是合作共赢、共同发展,希望看到友善、包容、开放的投资环境。我希望并相信,英方有智慧处理好相关问题。
Ambassador Liu: As I said earlier, there is no confirmation by the British Government that such a review body is to be set up. I would like to stress that, Chinese businesses are here for win-win cooperation and common development and they expect a friendly, inclusive and open investment environment. I hope and believe the British side has the wisdom to manage relevant matters appropriately.
中国日报:如何说服英国的政客和官员们完全不必害怕中国对英投资?
China Daily: How would you persuade British politicians and officials that they do not have to fear about China's investment?
刘大使:如何看待中国对英投资,我建议英方要想清楚以下两个问题:
Ambassador Liu: I suggest the British side think about two points carefully when it comes to Chinese investment.
一是中国对英投资迅速增长不是中国企业的"一厢情愿",而是中英之间的"双向选择"。中国企业来英投资是中国资本、模式与英国技术、创意、经验相结合的产物,是中英优势互补的成果。
First, the rapid growth of Chinese investment in the UK is not a one-way street but a mutual choice by both countries. By matching China's capital and development model with British technology, creativity and experience, Chinese investment in the UK help put the respective strengths of the two countries together.
二是中国对英投资迅速增长不是政府"看得见的手"操纵的结果,而是市场"看不见的手"背后推动的结果。中国企业也是自负盈亏的市场行为主体,他们来英投资是因为看重英国经济发展的机遇,看好双方合作共赢的前景。
Second, the rapid growth of Chinese investment in the UK is not led by the visible hand of the government, but by the invisible hand of the market. Chinese companies are market entities responsible for their own gains and losses. They are here because they see economic opportunities in Britain and are optimistic about the prospects of win-win cooperation.
中国日报:英国企业投资中国的基础设施、公共服务和其他行业是否很便利?
China Daily: Is it easy for British businesses to invest in China's infrastructure, public services and other sectors?
刘大使:我认为,评价投资环境好与坏,数据最有发言权。自1993年以来,中国吸引外资规模一直居发展中国家首位,2008年以来保持在全球前三。2016年,在全球跨国投资总量有所下滑的背景下,中国吸引外资同比增长4.2%,特别是美国、欧盟28国对华实际投资同比分别增长52.6%和41.3%。
Ambassador Liu: I think with regard to business environment in China, data speaks louder. Since 1993, China has been leading the developing world in terms of the scale of foreign investment inflow and has been one of the top three in the world since 2008. In 2016 when global cross-border investment was decreasing, foreign investment in China increased by 4.2%, with actual investment from the US and 28 EU nations grew by 52.6% and 41.3% respectively.
中国政府坚持对外开放的基本国策,一直致力于打造和维护公平竞争的市场环境,坚持对内外资企业一视同仁,大力优化外商投资环境。今年以来,为进一步改善营商环境,我们又出台一系列政策措施。1月,国务院发布《关于扩大开放积极利用外资若干措施的通知》。4月,新设辽宁等七个自由贸易试验区,中国自贸试验区总数已经达到11个,形成东、中、西全方位制度创新的开放格局。6月,国务院印发"2017年自贸试验区外资准入负面清单",减少10个条目、27项限制性措施。7月28日,2017年《外商投资产业指导目录》正式实施,在全国范围内进一步减少30条外资限制性措施,放宽金融业、服务业、制造业、采矿业等多领域外资准入限制。8月,国务院发布"关于促进外资增长若干措施的通知",提出进一步提升中国外商投资环境法治化、国际化、便利化水平的"22条措施"。
The Chinese Government has been committed to opening-up as a fundamental policy. Tremendous efforts have been made to ensure a level playing ground. Foreign companies are given national treatment and business environment for foreign investors has kept improving.
Since early this year, China rolled out a series of policy measures to further improve business environment.
In January, the State Council issued the Notice on Several Measures for Opening Wider to the Outside World and Making Active Use of Foreign Investment. In April, seven pilot free trade zones were established in Liaoning and other provinces, increasing the total number of free trade zones in China to eleven and putting in place a balanced and comprehensive opening-up network covering China's Easter, Middle and Western region. In June, the State Council issued the Notice on the Special Management Measures for the Market Access for Foreign Investment in Pilot Free Trade Zones, abolishing ten regulatory items and 27 restrictions. On 28 July, the Foreign Investment Catalogue officially came into effect, abolishing a further 30 restrictions on foreign investment and lowering the threshold for access to China' financial, services, manufacturing, mining and some other sectors. In August, the State Council issued a notice on measures to facilitate foreign investment, adding 22 measures to make foreign investment environment in China more rule-based and aligned with international practice.
英国拥有许多世界知名企业,在交通运输、通讯和能源等基础设施领域享有盛誉,其中不少在华投资及运营经验丰富,成果显著。我们欢迎英国同中国加强基础设施领域投资合作,期待更多英国企业参与到中国的基础设施及公共服务建设中来。
The UK is home to many world prestigious enterprises that are particularly reputed for their strengths in transportation, telecommunication and energy related infrastructure building. Some of these enterprises have investments in China with years of operation experience and remarkable achievements. China welcomes cooperation with Britain in infrastructure investment. We look forward to more British companies joining in the building of China's infrastructure and public services system.
中国日报:在围绕"投资审查委员会"成立的必要性的相关讨论中,为什么单单把中国拿出来说事?
China Daily: Why China is named in the discussion of the necessity of setting up an investment review body?
刘大使:对于英国政府拟加强投资审查问题,我认为,中英双方都应理性对待,既保持平常心,又保持自信心。
Ambassador Liu: With regard to British Government's intention to strength review on foreign investment, I think both China and Britain need to take it rationally, avoid panicking and stay confident.
对英方而言,既要有贸易和投资强国的自信心,也要有正确面对中方投资快速增长的平常心。一方面,英国是市场经济的发源地,是全球对贸易和投资最开放、最自由的大国之一,也是高度法治化的国家,英方理应有足够的自信。另一方面,英方也应当正确看待近年来中方对英投资的快速增长。中国企业在英投资不仅促进了两国经贸、投资合作深入发展,也为两国人民带来了实实在在的好处,得到各界充分肯定。从数据上看,中国对英投资虽增速快,但起点低。根据英国国际贸易部统计,英国2016—2017财年吸引中国投资项目数仅有160个,不及美国三分之一。中方对英投资还有很大潜力可挖。
The UK, a world power in trade and investment, should have the confidence to take it easy with the fast-growing investment from China.
On one hand, as the birthplace of market economy and one of the world's most liberal and open-minded nations in trade and investment, and with a highly rule-based system, Britain has no reason to lose confidence in herself.
On the other hand, Britain needs not to perceive China's rapidly growing investment negatively. Investment from China not only facilitates bilateral business and investment cooperation, but also helps deliver tangible benefits to the people of our two nations. This is widely recognized.
Investment from China over the years has been growing fast yet such growth started from a very low level. According to the Department for International Trade, in fiscal year 2016-2017, China invested in 160 projects in Britain, which was less than one third of those invested by the US. In fact, there is still great untapped potential for Chinese investment in Britain to continue to grow.
对中方而言,既要有作为后来者诚信规范经营的自信心,也要有面对正当审查的平常心。当前,经济全球化深入发展,中国综合国力不断提升,已进入对外投资快速增长期。作为后来者,我们更要遵守规则,在投资国诚信守法、规范经营,积极履行社会责任,实现互利共赢。同时,也要保持平常心。中国对外投资仍然处于初级阶段,在企业"走出去"过程中,难免遇到各种问题。对于合法合规的审查,我们会认真配合、严格遵守,但对于带有保护主义色彩和歧视性审查,我们将坚决反对,积极捍卫企业正当权益。
For China, we are a late-comer in overseas investment. We should also on the one hand have confidence in our credibility and rule-based business operation, and on the other adapt to and take it easy with legitimate reviews.
As economic globalization goes deeper and China's overall national strength grows, China's outbound investment is entering into a period of fast growth. As late-comer here in Britain, Chinese companies are ready to observe the rules and laws of this country, do business faithfully, fulfil corporate social responsibility and work for win-win results.
Meanwhile, Chinese investors need to take it easy with possible problems. It has not been long since Chinese companies began making outbound investment. Therefore, it is only natural for those operating internationally to encounter various kinds of problems. As for justifiable and lawful reviews, they will do all they can to cooperate with the British side and follow laws and rules. But for reviews that are protectionist and discriminative in nature, the Chinese side will firmly oppose to them and act to safeguard the legitimate rights and interests of the Chinese companies.
中国日报:你如何展望中国对英投资前景?
China Daily: How do you envision the prospects of China's investment in the UK?
刘大使:对英国的贸易、投资伙伴来说,脱欧是今后一个时期的最大不确定因素。我是一个乐观主义者,我相信脱欧之后的英国会选择更加开放,选择拥抱世界,而不是退回港湾、拉起吊桥。因此,我对中国在英投资前景充满信心。
Ambassador Liu: For the UK's trade and investment partners, the time after Brexit will be a period of greatest uncertainty. As an optimist, I believe that after Brexit the UK will choose to be more open to the world, rather than lowering the portcullis and pulling up the drawbridge. Therefore, I have great confidence in the prospects of China's investment in the UK.
今年上半年,中国经济增速实现6.9%的预定目标,保持稳中向好态势。同时,中方也加强了对外投资真实性、合规性审查,非理性对外投资得到有效遏制,中国对外投资更趋理性、健康。
With 6.9% of economic growth in the first six months, China has hit our growth target and continued the trend of steady progress. By strengthening reviews on the authenticity and legitimacy of outbound investment, China has kept an effective rein on irrational outbound investment, making its overseas investment more rational and healthy.
习近平主席在今年达沃斯世界经济论坛年会上提出,"要坚定不移发展全球自由贸易和投资,在开放中推动贸易和投资自由化便利化,旗帜鲜明反对保护主义。"我相信,在相互尊重、平等相待基础上,未来中英将共同高举支持经济全球化、贸易自由化、投资便利化的旗帜,继续坚持创新思维、创新投融资模式,不断深化两国在"一带一路"、人民币国际化、三方合作等领域的互利合作,为中英关系"黄金时代"贡献更多"黄金成果"。
At this year's Davos World Economic Forum, President Xi Jinping said: "We must remain committed to developing global free trade and investment, promote trade and investment liberalization and facilitation through opening-up and say no to protectionism."
It is my belief that, on the basis of mutual respect and equality, China and the UK should come together to jointly support economic globalization, trade liberalization and innovate financing and investment models. There are also enormous opportunities for us to deepen mutually beneficial cooperation on the Belt and Road, RMB internationalization and projects in third countries. Our concerted efforts will help deliver more "golden fruits" in the China-UK Golden Era.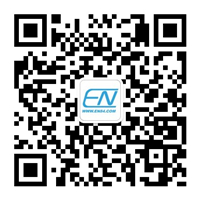 英文巴士公众号
扫一扫,资讯早。