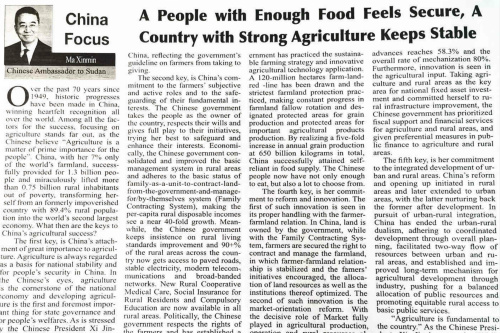 2019年11月5日,驻苏丹大使马新民在《苏丹视野报》"中国聚焦"专栏发表题为《国无农不稳,民无粮不安》的署名文章。全文如下:
On November 6th, Chinese Ambassador to Sudan Ma Xinmin publishes a signed article titled "A People with Enough Food Feels Secure, A Country with Strong Agriculture Keeps Stable" for the "China Focus Column on Sudan Vision". The full text is as follows:
国无农不稳,民无粮不安
A People with Enough Food Feels Secure, a Country with Strong Agriculture Keeps Stable
新中国成立70年取得了举世瞩目的历史性成就,其中一条重要成功经验就是正确解决了农业问题。"民之大事在农。"中国用占世界9%的耕地养活了全球20%的人口,成功解决了13亿人口的吃饭问题,并使超过7.5亿的农村人口脱贫,把一个农村人口占比高达89.4%的贫穷落后的农业国发展为世界第二大经济体。中国农业成就的关键何在?
Over the past 70 years since 1949, historic progresses have been made in China, winning heartfelt recognition all over the world. Among all the factors for the success, focusing on agriculture stands far out, as the Chinese believe "Agriculture is a matter of prime importance for the people". China, with her 7% only of the world's farmland, successfully provided for 1.3 billion people and miraculously lifted more than 0.75 billion rural inhabitants out of poverty, transforming herself from a formerly impoverished country with 89.4% rural population into the world's second largest economy. What then are the keys to China's agricultural success?
一是始终坚持农业的基础地位。重农固本,是安民之基。中国政府始终把农业作为国民经济的基础,把农业发展作为治国安邦的首要任务和关乎国计民生的根本问题。中国国家主席习近平说:"任何时候都不能忽视农业、忘记农民、漠视农村。"中央连年出台1号文件,聚焦农业发展和农民增收问题,实施强农惠农富农政策,强化对农业农村农民"多予少取放活"的政策导向,其中取消农业税、牧业税和特产税,终结了延续2600多年的"皇粮国税",并建立农业支持保护制度,国家与农民关系实现了由取到予的历史性转变。
The first key is China's attachment of great importance to agriculture. Agriculture is always regarded as a basis for national stability and for people's security in China. In the Chinese's eyes, agriculture is the cornerstone of the national economy and developing agriculture is the first and foremost important thing for state governance and for people's welfares. As is stressed by the Chinese President Xi Jinping, "We should neither neglect, forget or ignore agriculture, farmers or the rural areas at any time." With the focus placed on agricultural development, the yearly No.1 Documents issued by the Central Government, for 16 consecutive years, have been solely on agriculture, rolling out policies toward boosting agriculture and bringing benefits to farmers. Agricultural taxes, husbandry taxes, specialties taxes, and even land rents, practices with worldwide popularity and millennium's history, are now exempted in China, reflecting the government's guideline on farmers from taking to giving.
二是始终坚持保障农民的主体地位和根本利益。中国政府充分发挥农民的主体作用,尊重农民意愿和首创精神,维护和发展农民的根本利益。在经济上保证农民的物质利益,巩固和完善农村基本经营制度,坚持家庭经营基础性地位,农民人均可支配收入提高了近40倍;坚持改善农村生活条件,全国农村通路、通电、通电话、通宽带占比均超过90%,新型农村合作医疗、农村社会养老保险、农村义务教育实现全覆盖。在政治上尊重农民的民主权利,建立自治、法治、德治相结合的乡村治理体系,严肃查处侵犯农民利益的"微腐败"。
The second key is China's commitment to the farmers' subjective and active roles and to the safeguarding of their fundamental interests. The Chinese government takes the people as the owner of the country, respects their wills and gives full play to their initiatives, trying her best to safeguard and enhance their interests. Economically, the Chinese government consolidated and improved the basic management system in rural areas and adheres to the basic status of family-as-a-unit-to-contract-land-from-the-government-and-manage-for/by-themselves system (Family Contracting System), making the per-capita rural disposable incomes see a near 40-fold growth. Meanwhile, the Chinese government keeps insistence on rural living standards improvement and 90+% of the rural areas across the country now gets access to paved roads, stable electricity, modern telecommunications and broad-banded networks. New Rural Cooperative Medical Care, Social Insurance for Rural Residents and Compulsory Education are now available in all rural areas. Politically, the Chinese government respects the rights of the farmers and has established a rural governance combining self-governance, rule of law, and rule of virtue, investigating and punishing Micro Corruption (the Slightest misdemeanors) to protect the farmers' rights.
三是始终坚持保障粮食安全。"洪范八政,食为政首"。中国人多地少,解决好十几亿人口的吃饭问题始终是国家的头等大事。中国政府毫不放松抓好粮食生产,推动藏粮于地、藏粮于技,划定18亿亩耕地红线,落实严格耕地保护制度,持续推进耕地轮作休耕制度,建立粮食生产功能区和重要农产品生产保护区。中国依靠自身力量端牢自己的饭碗,将粮食年产量提升5倍稳定在1.3万亿斤以上,实现了由"吃不饱"到"吃得饱"再到"吃得好"的历史性转变。
The third key is her commitment to food security. As an ancient Chinese wisdom saying highlights, "among 8 most important governance issues, food stands atop". With a tremendous population but comparatively little land, China has always kept alerted on food issues. For food security, the Chinese government has practiced the sustainable farming strategy and innovative agricultural technology application. A 120-million hectares farm-land-red -line has been drawn and the strictest farmland protection practiced, making constant progress in farmland fallow rotation and designated protected areas for grain production and protected areas for important agricultural products production. By realizing a five-fold increase in annual grain production at 650 billion kilograms in total, China successfully attained self-reliant in food supply. The Chinese people now have not only enough to eat, but also a lot to choose from.
四是始终坚持改革创新。中国政府坚持农业理论制度政策实践创新不止。这首先表现正确处理农民与土地关系,实行家庭联产承包责任制,稳定土地承包关系长期不变,实行农村承包地所有权、承包权、经营权"三权分置",优化了土地资源配置及其制度。其次表现在始终坚持市场化改革方向,利用市场化手段促进农业发展,完善农村产权制度和市场要素配置,充分发挥市场在农业生产经营决策和农村资源配置中的决定性作用,其中"农民土地承包制"和"乡镇企业"被诺贝尔经济学奖得主科斯称为中国市场转型的两大重要力量。还表现在坚持农业科技创新,将科技作为农业发展的重要依靠,农业科技进步贡献率达到58.3%,粮食作物耕种收综合机械化率超过80%,农民面朝黄土背朝天、人拉牛耕成为历史。最后表现在坚持增加农业投入,建立地方为主、中央补助的政府投入机制,将农业农村作为国家固定资产投资的重点领域,围绕农村基础设施建设"补短板",坚持把农业农村作为财政优先保障领域和金融优先服务领域,保持公共财政向农业农村发展倾斜。
The fourth key is her commitment to reform and innovation. The first of such innovation is seen in its proper handling with the farmer-farmland relation. In China, land is owned by the government, while with the Family Contracting System, farmers are secured the right to contract and manage the farmland, in which farmer-farmland relationship is stabilized and the famers' initiatives encouraged, the allocation of land resources as well as the institutions thereof optimized. The second of such innovation is the market-orientation reform. With the decisive role of Market fully played in agricultural production, operation and rural resources allocation, agricultural development has been fostered, rural property right cleared and the allocation of market elements perfected. As quoted by Nobel Laureate Ronald H. Coase as, the Family Contracting System and Rural Cooperative Enterprises, are two of China's major innovations driving China into a market economy. Innovation also goes to agricultural science and technology, which are considered a vital impetus to agricultural development, to which the contribution of scientific and technological advances reaches 58.3% and the overall rate of mechanization 80%. Furthermore, innovation is seen in the agricultural input. Taking agriculture and rural areas as the key area for national fixed asset investment and committed herself to rural infrastructure improvement, the Chinese government has prioritized fiscal support and financial services for agriculture and rural areas, and given preferential measures in public finance to agriculture and rural areas.
五是始终坚持城乡融合发展。中国改革开放始于农村,扩及城市,又反哺农村。中国政府推进城乡一体化,打破城乡二元体制,坚持城乡统筹协调发展,促进资源要素在城乡双向流动,建立健全以工促农、以城带乡长效机制,推进城乡公共资源均衡配置,推动城乡基本公共服务均等化。
The fifth key is her commitment to the integrated development of urban and rural areas. China's reform and opening up initiated in rural areas and later extended to urban areas, with the latter nurturing back the former after development. In pursuit of urban-rural integration, China has ended the urban-rural dualism, adhering to coordinated development through overall planning, facilitated two-way flow of resources between urban and rural areas, and established and improved long-term mechanism for agricultural development through industry, pushing for a balanced allocation of public resources and promoting equitable rural access to basic public services.
"农,天下之大本。"习近平主席说:"中国要强,农业必须强;中国要美,农村必须美;中国要富,农民必须富。"农业基础稳固,农民就安居乐业,农村就和谐安宁,国家安全稳定有序的大局就有保障。这是中国农业成就得出的基本经验和结论。
"Agriculture is fundamental to the country." As the Chinese President Xi Jinping noted, "While China is marching toward prosperity, beauty and affluence, strong agriculture, beautiful countryside and well-off farmers are 3 musts." If there is a developed agriculture, there would be feel-secured-and-happy-to-work farmers, and there would be harmony and safety in rural areas. If there are secured and happy-to-work farmers, and harmonious and safe rural areas, there would be stability, order and peace in the country. Such is the basic experience and conclusion China got from its agricultural success.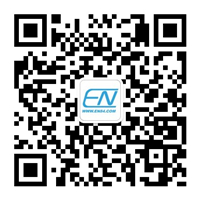 英文巴士公众号
扫一扫,资讯早。