同舟共济创造美好未来
Jointly Charting a Course Toward a Brighter Future
——在亚太经合组织工商领导人峰会上的主旨演讲
– Keynote Speech at the APEC CEO Summit
中华人民共和国主席 习近平
H.E. Xi Jinping, President of the People's Republic of China
2018年11月17日,莫尔兹比港
Port Moresby, 17 November 2018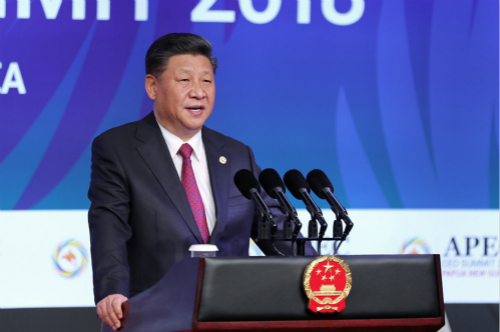 尊敬的奥尼尔总理,
尊敬的陶里卡主席,
各位工商界朋友,
女士们,先生们:
Honorable Prime Minister Peter O'Neill,
Chairman Isikeli Taureka,
Members of the business community,
Ladies and gentlemen,
大家好!很高兴来到景色宜人的莫尔兹比港,同大家相聚在太平洋探索者号上。在当今世界经济风起云涌、风险挑战凸显的形势下,我们同在一条船上,一起谋划发展合作,具有特别的意义。
Good Morning! It gives me great pleasure to come to the picturesque city of Port Moresby and meet with you on board Pacific Explorer. As we brave the rough waters of the global economy and confront the many risks and challenges, it is all too befitting that we have come together on this ship to chart the course for future development and cooperation.
这次工商峰会的主题"在颠覆性变革时代促进包容:规划共同未来",寓意深刻。当今世界正处于大发展大变革大调整时期。经济全球化大潮滚滚向前,但保护主义、单边主义为世界经济增长蒙上了阴影。新科技革命和产业变革蓄势待发,但增长新旧动能转换尚未完成。国际格局深刻演变,但发展失衡未有根本改观。全球治理体系加快变革,但治理滞后仍是突出挑战。
The theme of this CEO Summit, "Inclusion in the Age of Disruption: Charting a Common Future", couldn't be more important. The world today is going through major development, transformation and change. While economic globalization surges forward, global growth is shadowed by protectionism and unilateralism. A new revolution in science, technology and industry is in the making; but old driving forces are yet to be replaced by new ones. The international landscape is undergoing profound changes, but imbalance in development is yet to be addressed. The reform of the global governance system is gathering momentum, but improving its efficiency remains a major challenge.
当今世界的变局百年未有,变革会催生新的机遇,但变革过程往往充满着风险挑战,人类又一次站在了十字路口。合作还是对抗?开放还是封闭?互利共赢还是零和博弈?如何回答这些问题,关乎各国利益,关乎人类前途命运。
The changes we are encountering in the world are unseen in a century. Changes create opportunities, but more often than not, they are accompanied by risks and challenges. Mankind has once again reached a crossroads. Which direction should we choose? Cooperation or confrontation? Openness or closing one's door? Win-win progress or a zero-sum game? The interests of all countries and indeed, the future of mankind hinge on the choice we make.
回顾近代以来的世界历史,我们可以清楚地看到,不同选择曾经给世界带来迥异的历史轨迹。
A review of the world's modern history clearly shows that different choices would lead the world onto different paths.
亚太地区有着亚太经合组织这样的成功故事。亚太经合组织的诞生和发展顺应了开放融合的历史潮流,顺应了亚太地区谋求发展的强烈愿望,顺应了各国人民携手应对挑战的共同需要。亚太的开放合作不仅激荡着太平洋,也活跃了世界经济的海洋。如今的亚太,是全球最具增长活力和发展潜力的经济板块,也是举世公认的世界经济增长的一个重要引擎。
In the Asia-Pacific, the establishment of APEC is such a success story. Its birth and growth echoed the historical trend of openness and integration, our region's fervent desire for development and our people's need to meet challenges through cooperation. Openness and cooperation in the Asia-Pacific has not only boosted its prosperity but also injected vitality into the vast ocean of global economy. Today's Asia-Pacific has the world's most dynamic and promising economy, which is recognized as a key engine driving global growth.
然而,不是所有故事都这么美好,人类也有过惨痛教训。上世纪发生的第二次世界大战,让人类陷入了滔天浩劫。就在离我们不远的地方,曾经爆发第二次世界大战期间惨烈的珊瑚海战役、瓜达尔卡纳尔战役。今天,这片海面已经波澜不惊,但我们不能忘却历史上的风风雨雨。
However, not all that happened in the past are success stories. Mankind has learned lessons the hard way. World War II, for instance, plunged mankind into the abyss of calamity in the last century. Not far away from where we are meeting now are the sites of the fierce Battle of the Coral Sea and the Battle of Guadalcanal in World War II. Today, this part of the ocean has long restored its peace and calm, but never should we forget the lessons of history.
"明镜所以照形,古事所以知今。"我们回顾历史,是要以史为鉴,不让历史悲剧重演。面对历史大潮,如何才能为世界经济发展把握正确方向?如何才能为国际社会找到有效治理思路?这里,我愿提出以下主张。
An ancient Chinese philosopher observed that one needs to clean the mirror before taking a look at himself and that one should learn the lessons of the past before making decisions of the day. In reviewing history, we should draw its lessons to prevent the recurrence of past tragedies. Facing the surging historical trend, we need to ask ourselves: How can we steer the right course for global economic development? How can the international community find an effective way of conducting global governance? I believe it is imperative that we keep the following focuses:
第一,坚持开放导向,拓展发展空间。经济全球化是人类社会发展必经之路,多边贸易体制为各国带来了共同机遇。在各国相互依存日益紧密的今天,全球供应链、产业链、价值链紧密联系,各国都是全球合作链条中的一环,日益形成利益共同体、命运共同体。
First, we should focus on openness to create more space for development. Economic globalization is the sure way for the human society to achieve development, and the multilateral trading system has created opportunities for us all. In today's world, countries' interests are so closely intertwined, and the global supply chain, industrial chain and value chain are so closely connected. We are all links of the global chain of cooperation; increasingly, we are becoming one and same community with shared interests and a shared future.
这是经济规律使然,不以人的意志为转移。我们应该把握时代大势,客观认识世界发展变化,以负责任、合规矩的方式应对新情况新挑战。如果人为设置壁垒,切断各国经济上的密切联系,不仅违背经济规律和历史潮流,也不符合各国人民普遍愿望,既是短视的,也是不会成功的。
This is the working of the laws of economics, a fact no one can change. We need to gain a keen appreciation of this underlying trend of our times and view the changing world for what it is and, on that basis, respond to new developments and meet new challenges in a responsible and rules-based way. Attempts to erect barriers and cut the close economic ties among countries work against the laws of economics and the trend of history and run counter to the shared desire of people around the world. This is a short-sighted approach and it is doomed to failure.
一个时代有一个时代的问题。问题本身并不可怕,关键是采取正确的办法来解决问题。走保护主义、单边主义的老路,不仅解决不了问题,还会加剧世界经济的不确定性。历史已经证明,只有坚持开放合作才能获得更多发展机遇和更大发展空间,自我封闭只会失去世界,最终也会失去自己。
Each era faces problems of its day. Problems themselves are not to be afraid of; what truly matters is for us to take a right approach to resolve the problems. Resorting to old practices such as protectionism and unilateralism will not resolve problems. On the contrary, they can only add uncertainties to the global economy. Only openness and cooperation can bring more opportunities and create more space for development. This is a well proven historical fact. One who chooses to close his door will only cut himself off from the rest of the world and lose his direction.
亚太经合组织是建设开放型世界经济的先驱。茂物目标将于2020年到期,我们应该着眼2020年后合作愿景,坚持推进亚太自由贸易区建设。我们应该旗帜鲜明反对保护主义、单边主义,维护以世界贸易组织为核心的多边贸易体制,引导经济全球化朝着更加开放、包容、普惠、平衡、共赢的方向发展,在开放中扩大共同利益,在合作中实现机遇共享。
APEC is a pioneer in building an open global economy. As the Bogor Goals are set for 2020, we should set our sights on post-2020 cooperation and endeavor to build a free trade area of the Asia-Pacific (FTAAP). We should say no to protectionism and unilateralism, uphold the WTO-centered multilateral trading system, make economic globalization more open, inclusive, balanced and beneficial to all, and expand converging interests and share opportunities through opening-up and cooperation.
第二,坚持发展导向,增进人民福祉。我们应该把人民福祉放在首位。世界上所有国家都享有平等的发展权利,任何人都无权也不能阻挡发展中国家人民对美好生活的追求。我们应该致力于加强发展合作,帮助发展中国家摆脱贫困,让所有国家的人民都过上好日子。这才是最大的公平,也是国际社会的道义责任。
Second, we should focus on development to deliver more benefits to our peoples. More than anything else, we should strive to deliver better lives to our people. Every country is entitled to an equal right to development; and no one has the right or the power to stop people in developing countries from pursuing a better life. We should strengthen development cooperation and help developing countries eliminate poverty so that people in all countries will live better lives. This is what fairness is essentially about; it is also a moral responsibility of the international community.
我们应该把落实2030年可持续发展议程纳入本国发展战略,促进经济、社会、环境协调发展,根据自身国情推动普惠发展,积极构建平等均衡的全球发展伙伴关系。发达国家应该履行官方发展援助承诺,增加对广大发展中国家的支持。
We should make the 2030 Agenda for Sustainable Development a part of our national development strategies, promote coordinated advances in the economic, social and environmental fields, pursue inclusive development in keeping with our respective national conditions, and forge equal and balanced global development partnerships. Developed countries should honor their commitments on official development assistance and increase support to developing countries.
我们应该加强发展在国际经济政策协调中的地位,在讨论制定贸易和投资、知识产权保护、数字经济等各领域政策和规则时应该有明确的发展视角,为各国营造共同的发展机遇和空间,为世界经济增长提供强劲动力和稳定环境。"特殊与差别待遇"是世界贸易组织的重要基石。这一原则不能否定,否则将动摇多边贸易体制的根基。
We should give priority to development in international economic policy coordination and have a clear focus on development when adopting policies and rules on trade and investment, IPR protection, the digital economy and other areas. By doing so, we can create more opportunities and a more enabling environment for the development of all countries as well as robust drivers and a stable environment for global growth. The principle of "special and differential treatment", which is a cornerstone of the WTO, is not to be challenged. Otherwise, the very foundation of the multilateral trading system will be shaken.
第三,坚持包容导向,促进交融互鉴。我们共同居住在同一个星球上,这个星球有200多个国家和地区、2500多个民族、70多亿人口,搞清一色是不可能的。这种差异不应该成为交流的障碍,更不能成为对抗的理由。不同文明、制度、道路的多样性及交流互鉴可以为人类社会进步提供强大动力。我们应该少一点傲慢和偏见、多一些尊重和包容,拥抱世界的丰富多样,努力做到求同存异、取长补短,谋求和谐共处、合作共赢。
Third, we should focus on inclusiveness and promote interactions. We live on the same planet. It is home to more than 200 countries and regions, 2,500-plus ethnic groups and over 7 billion people. Trying to erase their differences will not work. Such differences are not a hindrance to exchanges, still less a cause for confrontation. Diversity and interaction between different civilizations, social systems and paths can provide strong impetus for human progress. We should reject arrogance and prejudice, be respectful of and inclusive toward others, and embrace the diversity of our world. We should seek common ground while putting aside differences, draw upon each other's strengths and pursue co-existence in harmony and win-win cooperation.
一个国家走什么样的道路,只有这个国家的人民最有发言权。一副药方不可能包治百病,一种模式也不可能解决所有国家的问题。生搬硬套或强加于人都会引起水土不服。
When it comes to choosing a development path for a country, no one is in a better position to make the decision than the people of that country. Just as one does not expect a single prescription to cure all diseases, one should not expect a particular model of development to fit all countries. Blindly copying the development model of others will only be counterproductive, so will be any attempt to impose one's own development model on others.
第四,坚持创新导向,开辟增长源泉。当前,信息技术、生命科学、智能制造、绿色能源等前沿领域不断突破,新材料、新产品、新业态迭代周期不断缩短。大数据、3D打印、人工智能,这些曾经的科学幻想,如今已经融入人们的衣食住行用,未来已经来到我们身边。
Fourth, we should focus on innovation to tap new sources of growth. Breakthroughs are being made one after another in frontier areas such as information technology, life sciences, smart manufacturing and green energy, and new materials, new products and new business forms are replacing existing ones at a faster pace. Big data, 3D printing and artificial intelligence, which we read about only in science fiction in the past, are now part of our daily life. The future is already with us.
百舸争流,奋楫者先。新科技革命和产业变革的时代浪潮奔腾而至,如果我们不应变、不求变,将错失发展机遇,甚至错过整个时代。我们应该以只争朝夕的精神,探寻新的增长动力和发展路径,消除一切不利于创新的体制机制障碍,充分激发创新潜能和市场活力,深化国际创新交流合作,更好应对各自和共同的发展挑战。
In a boat race, those who row the hardest will win. If we do not move proactively to adapt to the surging tide of new scientific revolution and industrial transformation, we risk missing valuable opportunities or even falling behind the times. What we should do is to lose no time in making every effort to explore new growth drivers and development paths, and remove all institutional obstacles holding back innovation. We should boost innovation and market vitality and deepen international exchanges and cooperation on innovation so as to better meet our respective and common challenges in development.
新科技革命和产业变革是一次全方位变革,将对人类生产模式、生活方式、价值理念产生深刻影响。公平和效率、资本和劳动、技术和就业的关系成为国际社会的共同课题,处理不当将导致南北贫富差距进一步拉大。我们应该审时度势、科学决策,引领新科技革命和产业变革朝着正确方向发展。
The sweeping new scientific revolution and industrial transformation will have a profound impact on the mode of production, way of life and values of human society. The need to strike a balance between equity and efficiency, capital and labor, technology and employment has become a common challenge for the international community. If not handled properly, this issue will further widen the wealth gap between the North and the South. We should gain a keen understanding of the complex dimensions of this issue and make the right decision. This will enable us to steer the new scientific revolution and industrial transformation in the right direction.
服务人民是科技创新的本质要求,各国都有权通过自身努力和国际合作从科技创新中受益。科技创新成果不应该被封锁起来,不应该成为只为少数人牟利的工具。设立知识产权制度的目的是保护和激励创新,而不是制造甚至扩大科技鸿沟。我们应该共同探讨建立面向新科技革命和产业变革的政策制度体系,营造国际合作环境,让科技创新成果为更多国家和人民所及、所享、所用。
Scientific and technological innovations should meet people's needs. Every country is entitled to benefit from such innovations made through both their own efforts and international cooperation. Scientific and technological innovations should not be locked up or become profit-making tools for just a few. The IPR regime is designed to protect and encourage innovation, not to create or widen the scientific and technological divide. We should develop policy institutions and systems that are responsive to the new scientific revolution and industrial transformation, and foster an enabling environment for international cooperation that will deliver the fruits of innovation to more countries and peoples.
第五,坚持规则导向,完善全球治理。两次世界大战的惨痛教训让各国人民痛定思痛,建立了以联合国为主体,包括国际货币基金组织、世界银行、世界贸易组织等机制的全球治理框架。虽然这个框架并不完美,却是人类社会迈出的重要一步,为过去几十年世界和平与发展发挥了重要作用。以规则为基础加强全球治理是实现稳定发展的必要前提。规则应该由国际社会共同制定,而不是谁的胳膊粗、气力大谁就说了算,更不能搞实用主义、双重标准,合则用、不合则弃。
Fifth, we should focus on a rules-based approach to improve global governance. With the painful lessons of two world wars in mind, countries established the global governance framework underpinned by the United Nations and composed of the IMF, the World Bank, the WTO and other institutions. This framework, while not an ideal one, represents an important step in human history. Indeed, it has been pivotal to global peace and development in the past decades. We must strengthen rules-based global governance if we are to achieve stability and development. Rules should be formulated by the international community, not in a might-is-right way. Once the rules are made, they should not be followed or bent as one sees fit, and they should not be applied with double standards for selfish agendas.
全球经济治理体系要想公平有效,必须跟上时代。我们应该秉持共商共建共享理念,推动全球经济治理体系变革。变革过程应该体现平等、开放、透明、包容精神,提高发展中国家代表性和发言权,遇到分歧应该通过协商解决,不能搞小圈子,不能强加于人。历史告诉我们,如果走上对抗的道路,无论是冷战、热战还是贸易战,都不会有真正的赢家。国与国只要平等相待、互谅互让,就没有通过协商解决不了的问题。
For the system of global economic governance to be equitable and efficient, it must keep up with the times. We should advance the reform of the global governance system on the principle of conducting consultation and collaboration for shared benefits. This reform should be advanced on the basis of equality, openness, transparency and inclusiveness. Developing countries should have more say and greater representation in this process. Disagreements should be resolved through consultation. Attempts to form exclusive blocs or impose one's will on others should be rejected. History has shown that confrontation, whether in the form of a cold war, a hot war or a trade war, will produce no winners. We believe that there exist no issues that countries cannot resolve through consultation as long as they handle these issues in a spirit of equality, mutual understanding and accommodation.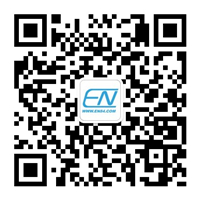 英文巴士公众号
扫一扫,资讯早。