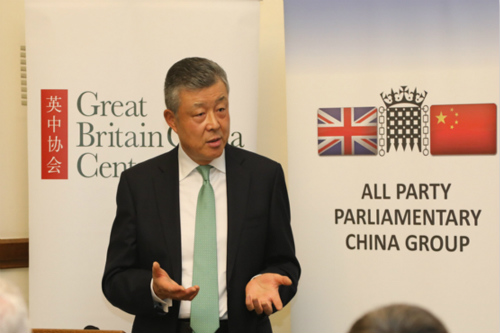 New Era for China and New Chapter of China-UK Cooperation
引领中国发展新时代,开启中英合作新征程
– Speech by H.E. Ambassador Liu Xiaoming at the British Parliament
——刘晓明大使在英国议会的演讲
House of Commons, 21 November 2017
2017年11月21日,英国议会下院
Sir Oliver Letwin,
My Lords and MPs,
Ladies and Gentlemen:
尊敬的英中协会名誉副主席莱特文爵士,
尊敬的各位议员,
女士们、先生们,
It is a great delight to be back at the House of Commons for this event co-hosted by GBCC and APPCG to talk about the 19th National Congress of the Communist Party of China.
很荣幸再次到访英国议会,特别是非常高兴出席英中协会在这里举办的中共十九大精神宣介会。
For the past weeks, I have been busy sharing information with my British friends about this epoch-making Congress. I published articles on newspapers and delivered a few speeches. And I was on ITV's "Peston on Sunday". I want to get more people to know why this Congress is significant to both China and the world. I hope to elaborate on China's new thinking, new blueprint and new measures for further development.
这几天,我通过撰文、演讲和接受采访等方式,向英国各界人士广泛宣介中国共产党第十九次全国代表大会,目的只有一个,那就是希望大家能更好了解十九大对中国和世界的影响,更好了解中国未来发展的新思想、新蓝图和新举措。
I was honoured to have attended the Congress in Beijing in person. And I feel equally honoured to be here today to share my thoughts and observations with the British Peers and Members of Parliament.
Today, I am going to deliver a speech first, then we get down to further discussion. I completely agree with Sir Oliver's suggestion that I shall leave more time for questions. I know you have come with a lot.
So despite of the golden rule of 70 per cent speech and 30 per cent Q&A, today I am going to turn this around by leaving 70 per cent of the time to Q&A. Please feel free to raise any question you may have. I promise I will leave no question unanswered.
作为大会亲历者,我很高兴今天有机会与各位议员分享我的所感、所思和所想。我先作一个开场发言,然后我们进行深入的讨论。莱特文爵士告诉我,议员们对参加今天的活动报名很踊跃,想讨论的问题也很多,希望我多留出提问的时间。我完全同意。一般演讲的"黄金定律"是"七分演讲、三分答问",今天我们可以"三分演讲、七分答问"。大家可以放开提问,我已留出充分时间,为的是不留下任何未回答的问题。
Now, let me begin with the core message of the Congress. This is: socialism with Chinese characteristics is entering into a new era.
What does the new era mean? I think there are at least five implications.
习近平总书记在十九大报告中做出了"中国特色社会主义进入新时代"的重大判断,那么这个新时代到底意味着什么呢?
First, China is at a new historic juncture.
To know where the future lies, you must first know where you are. The 19th Congress sets the direction for China's development in the coming years.
After nearly four decades of reform, opening-up and rapid growth, the principal contradiction facing the Chinese society has evolved. And so has our main task. According to the Congress, China's main task now is to address the imbalances and inadequacies in our development in order to meet the people's ever-growing needs for a better life.
Recognizing this change is highly significant. This will determine what policies and overall strategies China will adopt.  China continues to push for development. But we will target the imbalances and inadequacies in our development. This means we want higher-quality growth and we want more efficient growth. We want to meet our people's needs for a better life in all respects. This includes economic, political, cultural, social and eco-environmental needs. We want well-rounded development for every individual and social progress in all respects.
首先,新时代意味着新方位。明确方位才能找准方向,把握大势才能赢得未来。随着近40年的改革开放和快速发展,中国社会主要矛盾已经转化为人民日益增长的美好生活需要和不平衡不充分的发展之间的矛盾。明确社会主要矛盾的历史性变化,为制定国家大政方针提供了理论依据,标志着中国将在继续推动发展的基础上,着力解决好发展不平衡不充分问题,大力提升发展质量和效益,更好满足人民在经济、政治、文化、社会、生态等方面的需要,更好地推动人的全面发展、社会全面进步。
Second, in this new era, we have new theories to lead the way.
Theoretical guidance is the soul of a political party.
The new theoretical guidance of our Party is Xi Jinping Thought on Socialism with Chinese Characteristics for the New Era. This was established at the 19th Congress. It answers the fundamental question of how to uphold and develop socialism with Chinese characteristics in the new era. It consists of strategic plans for our work in 17 areas, including the economy, politics, rule of law, science and technology, culture, education, people's welfare, ecology, national defense, diplomacy, party building, etc.
This is a new milestone in the evolution of theoretical thoughts of the Communist Party of China. Xi Jinping Thought is a system of scientific and comprehensive theory. It is the result of adapting Marxism to the Chinese context. It represents our latest efforts in theoretical exploration and creation. It is the political and ideological guarantee for building socialism with Chinese characteristics.
第二,新时代产生了新思想。思想是一个政党的灵魂。十九大把习近平新时代中国特色社会主义思想确立为指导思想,深刻回答了新时代怎么坚持和发展中国特色社会主义的根本问题,并对经济、政治、法治、科技、文化、教育、民生、生态、国防、外交、党建等17个方面工作提出了战略指导和规划,这标志着中国共产党指导思想实现了又一次历史性飞跃。习近平新时代中国特色社会主义思想,是一个系统完整的科学理论体系,是马克思主义与中国实践相结合的最新理论探索和思想创新结晶,将为推进中国特色社会主义事业提供坚强的政治和思想保障。
Third, in this new era, we have set new objectives.
These objectives unveil an exciting future and give us great confidence.
The five years between now and the next National Congress are crucial. It is a period in which the time-frames of China's "two centenary goals" converge.
The first centenary goal is complete the building of a moderately prosperous society. This will have been delivered by 2020 before the 100th anniversary of the Communist Party of China.
Then it will be time to move on to the second centenary goal of building a modern socialist country when the People's Republic marks its 100th anniversary.
This will be achieved in two steps from 2020 to 2050, with 15 years for each step, namely, realizing socialist modernization by 2035, and building China into a great modern socialist country that is prosperous, strong, democratic, culturally advanced, harmonious and beautiful by the middle of this century.
This new blueprint marks out the important signposts for our journey ahead. It demonstrates the Chinese people's strong confidence in their country's future development.
第三,新时代确立了新目标。目标指向未来,宏图激发信心。十九大提出,从现在到2020年,是全面建成小康社会决胜期;从十九大到二十大,是"两个一百年"奋斗目标的历史交汇期。大会还提出"两个15年"的战略安排,分两步走全面建设社会主义现代化国家的新目标,即从2020年到2035年,基本实现社会主义现代化;从2035年到本世纪中叶,把中国建成富强民主文明和谐美丽的社会主义现代化强国。上述宏伟蓝图确立了中国社会主义现代化新征程的坐标体系,展现了中国人民对国家发展前景的强大信心。
Fourth, in the new era, we have made new action plans.
Big accomplishments always require overall planning. The 19th Congress has made overall plans for China in line with the "five-sphere integrated plan" and the "four-pronged comprehensive strategy". These are new and comprehensive plans. They cover the economic, political, cultural, social, and eco-environmental fields as well as party building.
China will carry out deeper and more comprehensive reforms to modernize its governance system and capability.
China will implement the new development concepts and aim at sustainable and healthy growth. This will be achieved by building a modern economy and improving the quality and efficiency of growth.
China will pursue a rural vitalization strategy, implement a coordinated regional development strategy and carry out the Healthy China initiative.
China will take tough steps to forestall and defuse major risks, carry out targeted poverty alleviation, and prevent and control pollution.
And I want to stress that China will stay open to the world. We will only open wider. Here, the Belt and Road will be a priority. In developing this major initiative, we will strive for shared growth through discussion and collaboration with partners. And we will open wider to the world in building up our innovation capacity. With these efforts, we hope to break new ground in opening China further through links in all directions, across land and over sea.
第四,新时代打造了新格局。大格局才能有大作为。十九大按照"五位一体"总体布局,协调推进"四个全面"战略布局,对经济建设、政治建设、文化建设、社会建设、生态文明建设以及党的建设作出新的全面部署。中国将坚定不移推进全面深化改革,不断推进国家治理体系和治理能力现代化;贯彻新发展理念,建设现代化经济体系,坚持经济发展质量第一、效率优先,以供给侧结构改革为主线,推动经济持续健康发展;实施好乡村振兴、区域协调发展、健康中国等各项发展战略,坚决打好防范化解重大风险、精准脱贫、污染防治等攻坚战。我想强调的是,中国开放的大门不会关闭,只会越开越大,中国将以"一带一路"建设为重点,遵循共商共建共享原则,加强创新能力开放合作,形成陆海内外联动、东西双向互济的开放格局。
Fifth, in the new era, we have a new central leadership.
A great cause calls for strong and firm leadership. The 19th Congress elected a new CPC central leadership. The new Central Committee and Political Bureau are strong and vigorous with political integrity and professional competence. This goes to show the CPC's strong vitality and cohesion. This also goes to show that China's causes are booming.
The CPC will continue to work hard to secure a sweeping victory in the fight against corruption. As the saying goes, it takes a good blacksmith to make good steel. Anti-corruption is key to ensuring strict Party self-governance.
Now, the 1.3 billion Chinese people are rallying around the new central leadership with General Secretary Xi Jinping at its core. I have every confidence that China is in good hands, and we are well on our way to achieve the Chinese dream of national rejuvenation.
第五,新时代迎来了新的中央领导集体。伟大事业离不开坚强的领导核心。十九大选举产生了新一届中央领导集体,一批德才兼备、年富力强的领导干部进入中共中央委员会和新一届中央政治局,再次说明中国共产党具有旺盛生命力和强大凝聚力,充分反映出中国发展事业蓬勃兴旺。打铁必须自身硬,中国共产党将夺取反腐败斗争压倒性胜利,推动全面从严治党向纵深发展。我相信,在以习近平为核心的中共中央新一届领导集体带领下,在13亿多中国人民的努力下,中华民族伟大复兴的中国梦必将实现!
Ladies and Gentlemen,
女士们,先生们,
I noted that many people here in Britain, the media in particular, are following China's foreign policy closely to understand how it will unfold in the new era. Some media reports are fairly objective and positive while others are based on misperceptions. Let me use this opportunity to share my take.
我注意到,英国各界高度关注新时代中国外交政策走向,英国媒体作了大量报道,既有客观正面的评价,也有一些主观片面的解读。今天,我想着重谈一下这个问题。
The Congress lays out China's two major diplomatic visions. One is to build a new type of international relations. The other is to build a community of shared future for mankind. They answer two questions:
What is China's vision of the world?
How will China seek to shape the world?
十九大报告确定了中国特色大国外交的两大目标,即推动构建新型国际关系,推动构建人类命运共同体。这两个目标分别回答了两个问题,即中国要推动建设一个什么样的世界以及如何建设这个世界。
China envisions a new type of international relationship, which has three salient features, namely, mutual respect, fairness and justice, and win-win cooperation. These three elements are inter-connected and mutually-reinforcing. Together they give us a complete picture of the new type of international relations. Let me go through them one by one.
中国致力于推动建设相互尊重、公平正义、合作共赢的新型国际关系,这三者紧密联系,相辅相成,是一个有机系统的整体。
First, mutual respect. This is the basis for the new type of international relations.
The world today is undergoing major developments, transformation, and adjustment. In this context, all countries should follow the trend of the times, which is peace and development. Therefore, countries must respect each other's independent right to choose their own social system and development path. Countries must respect each other's core interests and major concerns. And countries should try to learn from each other in order to stimulate progress and common development.
首先,相互尊重是基础。在当今世界处于大发展大变革大调整的背景下,世界各国应顺应时代潮流和大势,尊重彼此自主选择的社会制度和发展道路,尊重彼此核心利益和重大关切,推动不同发展模式取长补短、相互促进、共同发展。
Second, fairness and justice. This is the norm of the new type of international relations.
China attaches fundamental importance to fairness, justice, rule of law and order. We believe that all countries are equal regardless of size. We always take position on an issue based on its own merits. We resolutely reject the cold-war mentality and call on all countries to do the same. We stand for a new thinking on common, comprehensive, cooperative, and sustainable security.
第二,公平正义是准则。中国是讲公平、讲正义、讲法治、讲秩序的国家,一贯认为大小国家一律平等,根据事情本身的是非曲直决定自己的原则立场,主张各方应摒弃冷战思维,树立共同、综合、合作、可持续的新安全观。
Third, win-win cooperation. This is the objective of the new type of international relations.
The ideas of "zero-sum game" or "winner takes it all" are outdated and should be abandoned. They should be replaced with a new way of thinking, namely, making the pie bigger so that everyone gets a larger share. Cooperation should aim at mutual benefits.
Our world is an integrated and interconnected world. That is the right way to approach state-to-state relations. Countries certainly must uphold their own national interests. But they should not lose sight of the common interests of humanity. After all, despite differences in social system, development path and cultural heritage, we have only one world to share and we should share it in peace and harmony.
第三,合作共赢是目标。各方要扔掉我赢你输、赢者通吃的旧思维,树立做大蛋糕、互利合作的新观念。我们要用整体而不是割裂的眼光看待和处理国际关系,倡导各国在维护本国利益的同时促进人类共同利益,实现不同社会制度、不同发展道路、不同文化传统的国家和平共处、和谐共生。
Now, let me turn to China's other vision, namely, building a community of shared future for mankind. This concept is about building an open, inclusive, clean, and beautiful world that enjoys lasting peace, universal security and common prosperity.
In the political dimension, the community of shared future advocates mutual respect and consultation on an equal footing. It calls for a new approach to state-to-state relations based on communication rather than confrontation, partnership rather than alliance.
In the security dimension, the community of shared future advocates settling disputes through dialogue, resolving differences through discussion, and joint response to traditional and non-traditional threats.
In the economic dimension, the community of shared future advocates trade and investment liberalization and facilitation, and economic globalization that is more open, inclusive and balanced and whose benefits are shared by all. In short, we are all in the same boat.
In the cultural dimension, the community of shared future advocates respect for cultural diversity, mutual learning and inclusive development.
In the ecological dimension, the community of shared future advocates the idea of a home for all.
This calls on countries to build an environment-friendly society and work with each other to tackle climate change.
中国致力于构建人类命运共同体,这一理念的核心就是建设持久和平、普遍安全、共同繁荣、开放包容、清洁美丽的世界。政治上,坚持相互尊重、平等协商,走对话而不对抗、结伴而不结盟的国与国交往新路。安全上,坚持以对话解决争端,以协商化解分歧,统筹应对传统和非传统安全威胁。经济上,坚持同舟共济,促进贸易和投资自由化便利化,推动经济全球化朝着更加开放、包容、普惠、平衡、共赢的方向发展。文化上,尊重世界文明多样性,坚持不同文明文化互学互鉴、取长补短、包容发展。生态上,坚持建设环境友好型社会,各国合作应对气候变化挑战,保护好人类共同的家园。
I believe that as China moves closer to the centre stage, we will be able to share with the world more of China's wisdom, China's solution and China's experience. We will bring more positive energy into the world and we will create new development opportunities for other countries.
我相信,随着中国日益走近世界舞台的中央,我们愿意给世界提供更多中国智慧、中国方案和中国经验,给国际社会带来更多正能量,给各国发展带来更多新机遇。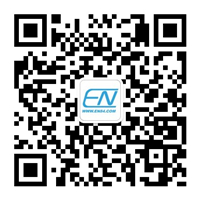 英文巴士公众号
扫一扫,资讯早。